Adorable Moment Florida Taco Bell Worker Is Given $6,000 Christmas Tip
A Taco Bell employee who has been working at the drive-thru lane of a South Daytona branch in Florida for 20 years received a $6,000 Christmas tip from a local community of food lovers.
Joe DeCicco, nicknamed Taco Bell Joe, has become a well-known character in the Daytona area during the two decades that he has worked for the fast-food chain.
On Friday, the 70-year-old was presented with a check for $6,000 by Tricia Phillippi, who created a Facebook group for Daytona foodie reviews that aimed to support local restaurants and staff during the pandemic.
DeCicco was voted favorite employee by the group's members, who then decided to raise $50 as an award but this soon spiralled into thousands.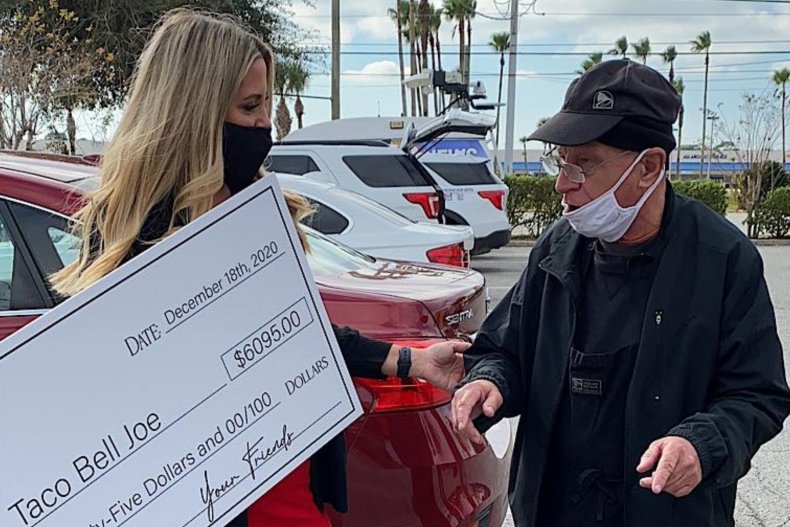 Phillippi posted a video to Facebook on Saturday, in which an emotional DeCicco was handed the check in outside the Taco Bell restaurant.
She told Newsweek: "He deserves the recognition. He truly is the kindest, most gentle, most wonderful man. He makes driving through Taco Bell an actual experience. His spirit is just magical."
In the clip, Phillippi holds the giant check and DeCicco responds by saying: "I just want to say I'm speechless."
Phillippi said: "I'm a little speechless too. The original prize was $50 cash prize. But after I saw all the comments that were coming through about the kindness that you have been giving people for more than 20 years, making all of us your friends and giving us exceptional service, on the behalf of the foodie review page and all of your friends within your community, I'm so proud to present you with a cash prize of $6,075.
"Thank you for your amazing customer service and for being a friend to all of us."
DeCicco replied: "This job has been an enormous blessing to me. It has brought out the best in me with the wonderful customers that we have.
"They gave me strength. They give me wisdom. They give me vitality. And these wonderful people have been true to me for Christmas. They have put grace into my Christmas."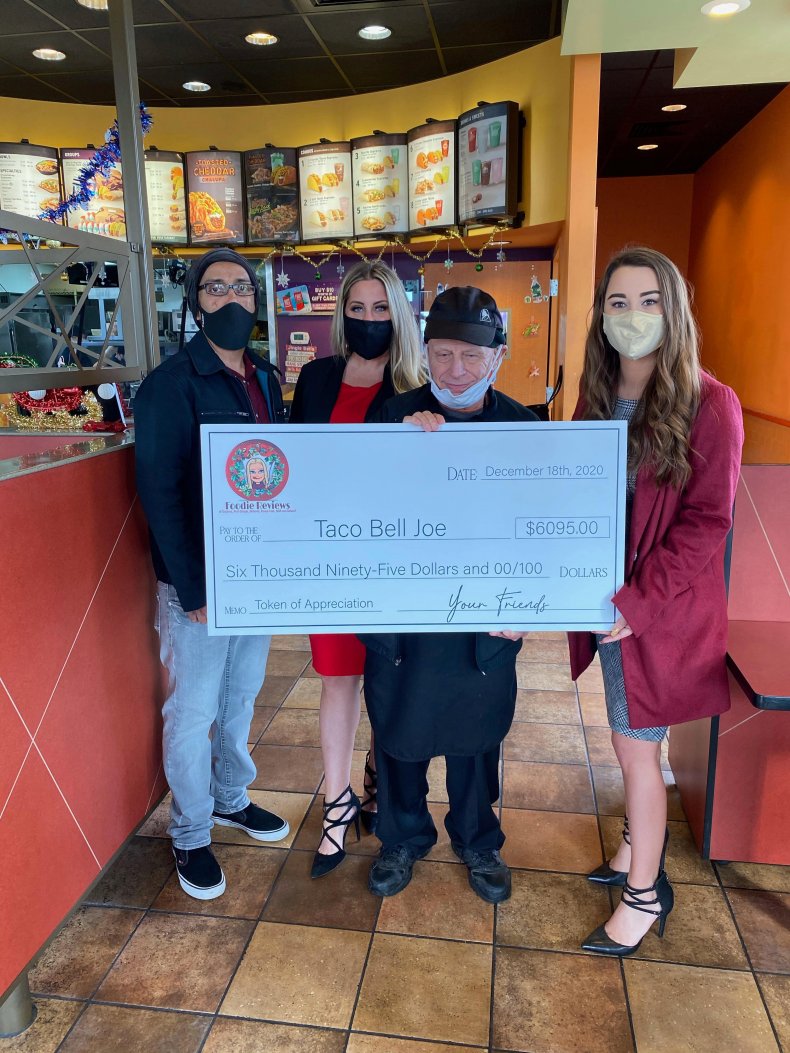 In the video, he then begins to break down in tears and says: "I'm overwhelmed. I'm truly overwhelmed."
He later adds: "I'm going to do my best to live up to it and light a little candle in every heart of every person that I meet.
"It's my customers that I owe this to, they bring out the best in me. It's them. I couldn't do it without their help," he added.
Sydney Cichon, who nominated DeCicco in the Facebook group, told WESH 2 News: "He just brings a smile to everybody's face, just interacting with him in the drive-thru just brings so much joy."
Another contributer to the tip was, Raj Gohill, who told media outlets: "You could have the worst day and by the time you get through that drive-thru, you're just smiling."