After an anonymous call to school officials, teacher Monica Toro Lisciandro was fired from her position teaching musical theater at Covenant Christian School in Palm Beach, Florida for being gay, according to LGBTQ Nation.
Administrators told Lisciandro that someone had informed them that she was in a relationship with a woman. She was also accused of attending a Pride festival and hosting an LGBTQ group in her own acting studio.
After admitting that those things were true, Lisciandro was let go from her job. Her class was readying their production of You're A Good Man, Charlie Brown.
Lorne Wenzel, head of Covenant Christian, sent an email to parents to Lisciandro's students.
"I am sorry to say that for personal reasons, Mrs. Lisciandro is not able to continue teaching our musical theater class," read the email, according to Metro Weekly. "We are aggressively pursuing another teacher to finish the class and [direct] our play, and I will keep you posted."
"It's been a very difficult situation, because my life has been dedicated to children and making them feel seen and heard and loved, no matter who they are," Lisciandro told Florida Today.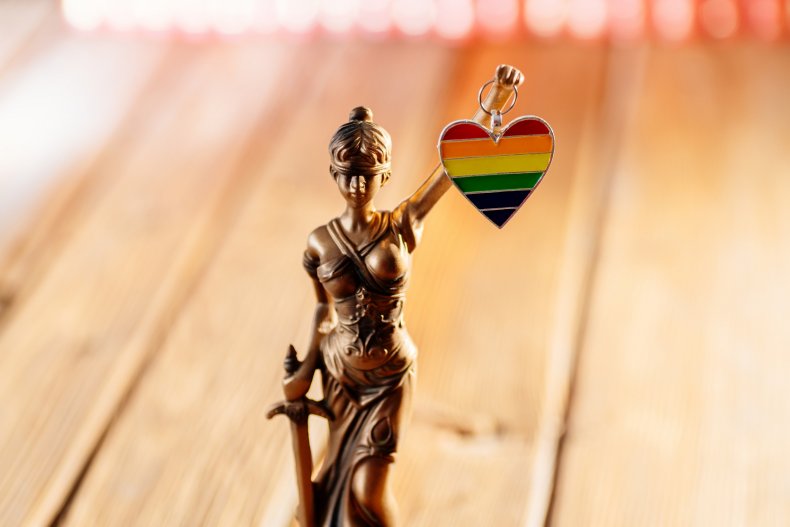 Covenant Christian, a private school, says on its website, "We are a relational community that promotes learning by inspiring students to discover their identity, celebrate their uniqueness, show kindness to others, and pursue maturity in Christ."
Florida has no laws to protect the LGBTQ community against discrimination. According to Equality Florida, people can be fired from their jobs or evicted from their homes because of their sexual orientation.
Private religious schools, such as Covenant Christian, can receive exemptions to Title IX, a civil rights act made part of the Education Amendments of 1972. The Department of Education says Title IX protects people against sex discrimination unless that school "is controlled by a religious organization to the extent that application of Title IX would be inconsistent with the religious tenets of the organization."
Stephen Lovegrove was fired from his position as a resident adviser at Charleston Southern University, where he was studying to be a pastor, after posting on social media about being a gay Christian, reported The Post and Courier.
"Like all South Carolina Baptist colleges and universities, we adhere to the Baptist Faith and Message 2000," said Charleston Southern University's assistant director of integrated marketing, Jenna Johnson. "Our campus community offered him love, prayer and support during his time as a CSU student, and we reaffirm our practice and belief that all are welcome at Charleston Southern University."
The Department of Justice (DOJ) got involved in an Indiana case, filing a statement of interest in a lawsuit filed by a teacher who claimed he was fired from his job as a direct result of his being in a same-sex marriage.
Siding with the Archdiocese of Boston, against which the suit was filed, the DOJ says courts cannot interfere with the First Amendment, which protects the Archdiocese's right to maintain their Catholic identity. Hiring an LGBTQ teacher would detract from that. Courts are also prevented from engaging in "quintessentially religious controversies."
The Trump administration has been criticized for their position that LGBTQ workers are not protected against employment discrimination by Title VII of the Civil Rights Act and other rollbacks of previously established policies.