The learning curve for the digital classroom isn't just for teachers and children. It's also for parents who haven't always adjusted to parts of their homes being on camera.
Edith Pride, a Boca Raton, Florida, elementary school teacher, utilized a school board meeting to issue a reminder to parents: From 8 a.m. to 2 p.m., we can see you. She told the school board that teachers have "seen it all," including parents who multitasked as they smoked and helped their child at the computer.
"Please do not appear with big joints in your hands and cigarettes," Pride said. "The joint be as big as a cigar.... Please do not have that in your hand and in your mouth."
Other sights seen in the digital classroom include parents walking around in their underwear, so Pride advised people to make sure that they have on "proper clothing" and that they keep the profanity to a minimum. She also asked parents not to distract their children when they're in school by "making silly faces" behind them.
Newsweek reached out to Palm Beach County's school district for comment but did not receive a response in time for publication.
States nationwide closed schools in spring to slow the spread of the coronavirus and had to plan for the start of a new school year during a pandemic. Although the Trump administration issued guidance for states, the decision was left up to state and local officials. In Florida, districts had to submit plans for reopening, and Palm Beach County decided to start the year virtually.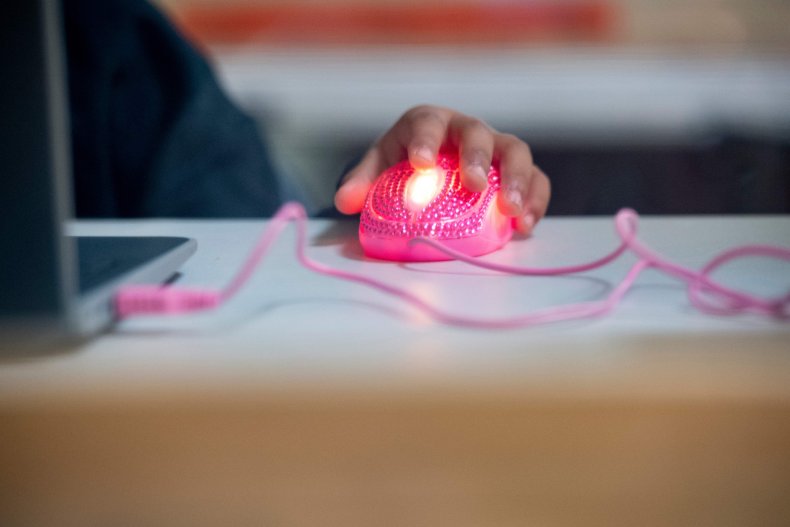 Even if virtual learning is deemed the safest option for a district, few would argue that it's the ideal environment for a child's education. It comes with numerous challenges, including adjusting lesson plans to fit the out-of-classroom experience, equal access to technology and, in Florida, students showing up to class.
During her three minutes at the podium during Wednesday's school board meeting, Pride reminded parents that the school day lasts from 8 a.m. to 2 p.m. It does not end after lunch or fine arts, a time when she's seen students leave and not return for the rest of the day.
Beginning on Monday, Palm Beach County schools will reopen doors to students, but parents will have the choice to send their child back to the classroom or continue virtual learning. At Verde K-8 School in Boca Raton, 58 percent of its student body will be in attendance, and officials have marked benches in the cafeteria to indicate where students should sit during lunch to remain socially distanced, the South Florida Sun-Sentinel reported. Desks are also spaced 6 feet apart, and directional signs on the floor direct students to walk on the right side of the hallway.
Even after schools reopen, it's possible students could be moved back to virtual learning, as a number of schools temporarily closed because of new coronavirus infections.