Florida Teachers Union President Says Governor DeSantis Is 'Playing Politics With Children's Lives'
Fredrick Ingram, president of Florida's largest teachers' union, accused his state's Governor Ron DeSantis of "playing politics with children's lives" amid his push to reopen schools while new coronavirus infections surge in the state and nationwide.
"These are not circumstances in which we have business as usual," Ingram, who heads the Florida Education Association (FEA), told CNN on Tuesday morning. "One life lost is one too many," he said. "It's too early for Florida to be the petri dish for America."
The FEA filed a lawsuit against DeSantis, a Republican, and Education Commissioner Richard Corcoran, alleging that the governor and the education official had violated the state's constitution, which calls for keeping Florida's public schools "safe and secure." Corcoran issued an emergency order this month requiring all his state's public schools to hold in-person classes five days per week. Newsweek reached out to the governor for comment, but he did not respond by the time of publication.
"A statistic that you all need to know is that we have 23,000 children that have been tested positive for COVID-19 here in the state of Florida," Ingram pointed out, pushing back against the narrative that children are largely safe from becoming infected and spreading the virus.
"It's unfortunate that we have a governor that's playing politics with childrens' lives, with teachers' lives, with cafeteria workers, and bus drivers and secretaries," Ingram said.
The Florida Chapter of the American Academy of Pediatrics sent a letter to DeSantis last week urging him to reconsider his position on reopening schools as news cases of COVID-19, the disease caused by the novel coronavirus, have surged in the state. Dr. D. Paul Robinson, president of the FCAAP executive board, wrote in the letter that students can do their best "only in situations in which children can safely go to school."
Although DeSantis and President Donald Trump have said that children can return to school safely without significant concerns of spreading new infections, some research suggests this assessment is inaccurate. A study out of South Korea showed that children and teenagers aged 10 to 19 transmit the virus at least as efficiently as adults, although younger children may transmit it at a lower rate.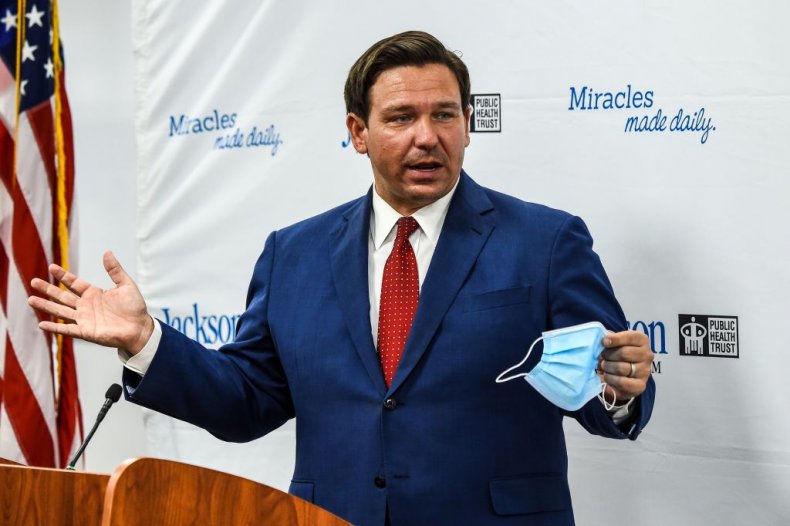 "We see the problems that have already developed with not having kids have access to the mentorship and the in-person instruction," DeSantis said during a Monday press conference.
"We don't want folks to fall behind and we really, really want to focus on the best interests of our students and giving the parents the maximum amount of choices to be able to make the best decision that they can," the governor said.
Meanwhile, Florida has confirmed more than 77,000 new infections in the past week. The state's current seven-day average of daily new infections stands at more than 11,000. Overall, Florida has reported over 360,000 cases and more than 5,000 deaths since the start of the pandemic.