Florida Teen Allegedly Attempted to Extort State Senator Lauren Book With Explicit Photos
A 19-year man from Plantation, Florida was arrested Thursday and accused of using faked explicit photos to extort a state senator.
Florida State Senator Lauren Book told the Florida Department of Law Enforcement about text messages she had received from an unknown number, including photographs of her with "exposed breasts," according to the Miami Herald. The individual threatened to "leak the photos to Fox and her career would be over," the newspaper reported, citing an arrest report filed by the department.
Book told investigators that the photos of her breasts were those "she had taken of herself and only shared with a close friend."
The individual also allegedly texted photos that included female genitalia and the portrayal of a sexual act and asked for $5,000 worth of gift cards to destroy them, according to the Herald.
The Florida Department of Law Enforcement began investigating on November 12 and started corresponding with the individual by impersonating Book. Authorities set up a meeting with the individual at a Starbucks, after the officer, impersonating the senator, said he would offer $4,000 to erase the images.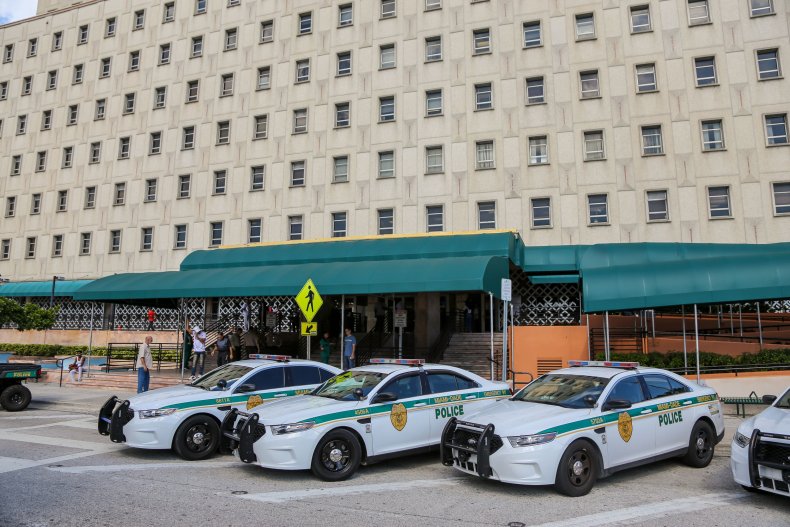 The investigation led to the arrest of Jeremy Kamperveen, who now faces cyberstalking and extortion charges.
Responding to a request from Newsweek for details about Kamperveen's arrest and its investigation, the Florida Department of Law Enforcement declined to provide them.
"Our investigation is active," the department wrote in an email.
In a statement released after a sheriff's department confirmed to a television station that the case involved the state senator, Book said that three weeks ago "she became the victim of ongoing cyber threats, sexual harassment and extortion.''
"I immediately notified law enforcement and began working closely with them to track those responsible for sending threatening and disturbing images and messages to my phone, including distorted, fake and stolen images created in an effort to intimidate, threaten, and extort me," she said, according to the Herald.
In the statement, Book said that she was "most grateful to law enforcement for their swift action resulting in the apprehension of one suspect," but noted that the investigation was ongoing "to ensure that other individuals that could be behind these serious criminal acts that are targeting me are apprehended and brought to justice."
She added that she had "invoked Marsy's Law" to protect her identity as a victim during the investigation. Marsy's Law is an amendment to Florida's constitution that seeks to offer protections for victims of crimes, including privacy.
"Sadly, the application of Marsy's Law has weaknesses as the ongoing investigation was released and my identity was revealed. While I have dedicated my entire life to public service and have never shied away from speaking publicly about personal and private matters, I am now asking for the respect of privacy for myself, my family—including my two very young children—and for the safety of agents involved in this ongoing case," Book said.