A Florida teenager fatally shot his own mother and critically wounded her boyfriend following an argument in Riverview, according to police.
The Hillsborough County Sheriff's Office (HCSO), which operates in and around the Tampa area, responded to reports of a young male suspect armed with a handgun running through the Summerfield subdivision on Saturday, September 16.
According to the Gun Violence Archive, a database that collects information about shootings from across the country, 44 people in Florida have been fatally shot since September 1 this year.
When officers arrived at the scene in Summerfield, they found the 14-year-old boy, later identified as Adeem Berry, who threatened to shoot himself, leading deputies to begin de-escalating the situation.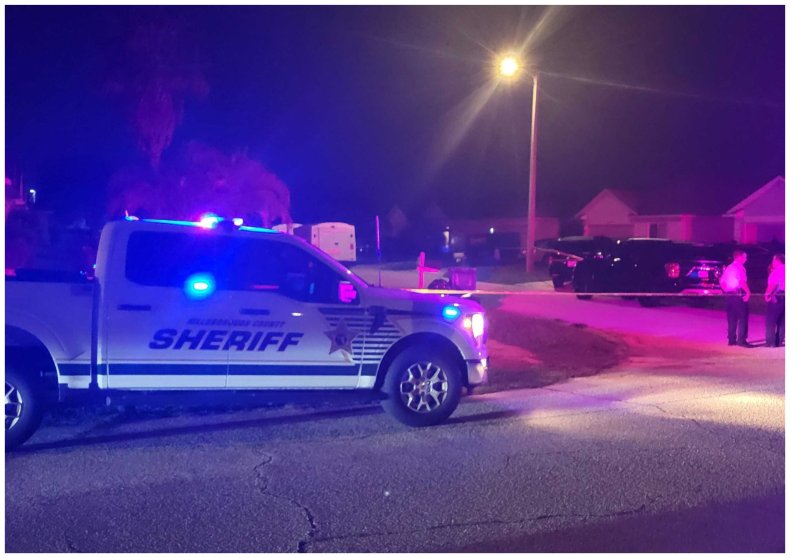 Sheriff Chad Chronister said: "The deputies who negotiated with this suspect for more than 16 minutes were calm, collected, and ultimately successful in convincing him to lower his weapon.
"They used their remarkable intuition and expertise to determine this suspect was not looking to harm them, but was contemplating suicide."
The teenager lowered his firearm following deputies commands but attempted to retrieve it again which prompted police to strike him in the hand with a 40mm launcher, which the HCSO stated has a "less lethal round."
After the boy was taken into custody, deputies found his mother lying in a nearby driveway and later pronounced her dead at the scene.
As deputies worked to de-escalate the situation with the suspect, additional units responded to a report of a man, later identified as the woman's boyfriend, who had been shot multiple times. He had fled to a neighbor's home for help.
The man was later taken to a nearby hospital under the care of EMS personnel and was said to be in a critical condition.
Chronister said: "This scene is one of nightmares and absolute heartbreak. This family's life is forever changed.
"A victim's life was taken, and because of his actions, the suspect's life, as he knows it is over. He will never see the outside of a detention facility for his crimes."
The HSCO said in a September 16 statement: "HCSO encourages anyone who feels they are a victim or that there is a potential for domestic violence to use available resources in the community.
"The Spring provides safe spaces and empowering services to survivors of domestic violence and their children. If you need help, please contact them at 813-248-7233."
Newsweek has contacted the HSCO for comment via email.