Florida Teenager Warns Against Juuling After His Lung Collapsed
An 18-year-old student from Florida — who now says he is never smoking again — is warning of the dangers of vaping after his left lung collapsed on Monday.
Chance Ammirata used to smoke one Juul pod every couple of days, which is the equivalent to around 10 cigarettes worth of nicotine. Now he is urging people to throw their vapes away. His warning comes after he was rushed to hospital with a suspected muscle strain which turned out to be serious lung damage.
The 18-year-old said he had been struggling to sleep due to a sharp pain in his left side. But it was only when he went out bowling with a friend that he was forced to go to the hospital due to the severe pain.
Speaking to The Daily Mail on Tuesday, he said: "Seven surgeons came in, and it's scary when you see seven surgeons come in. You think they're going to tell you you have like five days to live."
Doctors told the teenager they had found a small hole in his left lung, which had collapsed. They had inserted a tube into the lung to inflate it while they tried to fix the damage.
Ammirata added: "When they did the actual major surgery to reinflate my lungs, the surgeon said, 'whatever you've been smoking has been leaving these black dots on your lungs'."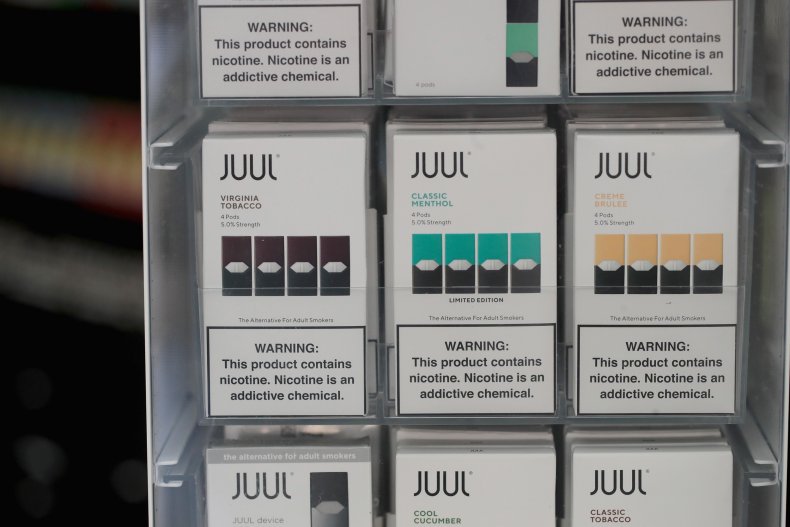 Surgeons were able to repair the hole, but he was told that the "black dots" will likely take years to heal and may never disappear at all.
The teen added in his interview with The Daily Mail: "I've never smoked cigarettes - it's the Juul."
Ammirata has been sharing his story on social media, posting pictures and videos from the hospital bed, criticizing Juul.
In a picture of his lungs posted to Twitter on Monday, he wrote: "You thought Juuls were safe, so did I. The black dots on my lungs are all reminiscence of Juuling. I've been doing it for a year and a half and can never do it again."
"And I don't think anyone could have said anything to make me stop. But your lungs most likely look like this too if you've been smoking. Don't let it get worse. Please stop. Like really please, it's so f***ing scary."
Juul and other vapes have been promoted as "safer" alternatives to cigarettes. They may lack some of the carcinogenic chemicals that are byproducts of combustible tobacco, but evidence that they are not safe is increasing.
Juul pods contain high concentrations of nicotine which the Centers for Disease Control and Prevention (CDC) have deemed so addictive that they fuel an "epidemic" of youth vaping.
"There's such a stereotype that it's safe and my whole reason [for speaking out] is to warn people that it's not safe," Ammirata said on Tuesday.
The US Food and Drug Administration has received 127 reports of seizures or other neurological symptoms possibly related to e-cigarettes, the agency announced Wednesday.