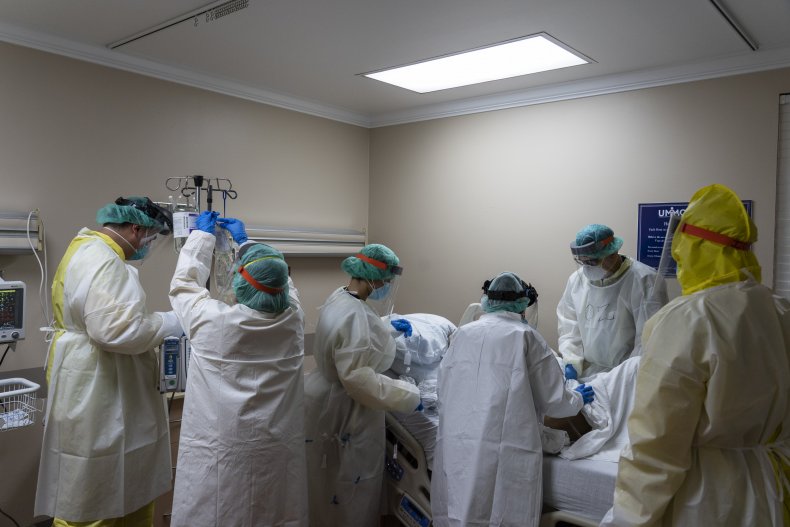 Hospitals across the country are quickly running out of intensive care unit (ICU) beds as COVID-19 cases continue to rapidly multiply, and the latest effect has hit major cities and many urban areas from the Sunshine State to the Lone Star State.
Florida and Texas, two southern states with increasingly-high amounts of cases, are running into a problem of too many coronavirus patients and hardly anywhere to treat them. And the daily patient count keeps mounting in both states.
Cases in both states have dramatically spiked for the past several weeks. As of Wednesday night, Florida's Agency for Health Care Administration reported that 971 adult ICU beds were available statewide for a population of more than 21 million. Texas reported that only 853 ICU beds were available for a population of about 29 million.
At more than 50 Florida hospitals, ICU beds were completely occupied, while dozens more had less than 10 percent of beds still available. More than 19,000 Florida residents were hospitalized with COVID-19.
Florida added 10,085 new cases on Wednesday, with total cases numbering more than 300,000. There were also 112 new deaths reported, bringing the death total to 4,521.
New cases have averaged over 10,000 per day for the past week. Florida Governor Ron DeSantis has dismissed the surge as a "blip" and refused to impose preventative measures that could slow transmission like requiring that masks be worn in public.
"I know we've had a lot of different blips," DeSantis told reporters last week, referring to the spike in cases. "We're now at a higher blip than where we were in May and the beginning of June."
Texas Governor Greg Abbott, a Republican like DeSantis, issued an order that masks be worn in public on July 2. He received a considerable amount of backlash for doing so, with many residents and some businesses refusing to comply, while multiple law enforcement officials around the state announced they would not enforce the order.
Regardless of the mask mandate, COVID-19 cases have continued to soar in the Lone Star State. There were 10,791 new cases recorded on Wednesday, with total cases numbering 282,365. A new single-day record of 110 deaths was also reported, with 3,432 deaths since the pandemic began.
COVID-19 hospitalizations reached 10,471, while fewer than 1,000 ICU beds have remained available in Texas for nearly a week. Abbott issued an order last week suspending elective surgeries in much of the state. Many hospitals, including those in rural areas, continue to report critical shortages of ICU beds.
"It used to [be that] if one hospital got kind of overwhelmed ... you would start transferring out ICU patients to other facilities that had ICU beds available," Dr. Robert Hancock, president of the Texas College of Emergency Physicians, told The Texas Tribune. "And there really is none of that now, because everybody's in the same boat and they're struggling to get their own patients admitted."
Newsweek reached out to the offices of DeSantis and Abbott for comment.