Florida Officials Say 'Too Early' to Link Busy Labor Day Theme Parks to Possible COVID-19 Outbreak
Officials in Florida have said it is too early to know if the crowds seen in its most popular theme parks over the Labor Day weekend will result in a COVID-19 outbreak.
Despite fears that theme parks such as Walt Disney World and Universal Orlando had opened too soon at a time when Florida was experiencing more than 10,000 new cases a day, Dr. Raul Pino, director of the Florida Department of Health in Orange County, has frequently said there have been no outbreaks of the virus that can be linked with people returning to them.
However, all parks at Walt Disney World and Universal Orlando hit their newly reduced capacity over the weekend—the first time this has occurred since they reopened amid the COVID-19 outbreak.
The parks were forced to close to any new attendees on both Saturday and Sunday, with Universal's Volcano Bay also hitting its 50 percent capacity on Monday.
When asked at a press conference about a possible link to new COVID-19 cases in Florida and the busy Labor Day crowds at the theme parks, Dr. Raul Pino said: "We have said before, it's not that we haven't had cases in the parks. It's that we haven't had an outbreak that we can identify in the parks.
"We had conversations with some of the parks prior to the weekend to emphasize the steps they are taking.
"So far we haven't been able to identify any outbreaks. It's too early to know if something had been related to this [Labor Day] weekend. That would probably be late next week."
Pino also confirmed that the county's "strike teams," which are being deployed to ensure that businesses are enforcing social distancing guidelines, have already inspected theme parks such as SeaWorld Aquatica and Discovery Cove.
Orange County Mayor Jerry Demings did not confirm if Walt Disney World or Universal Orlando have been visited by the "strike teams" yet in order to keep their expected visits a surprise.
Mateo Osorio was one of those who attended Universal Studios on Saturday. He described how he did not feel safe despite the reduced capacity while visiting because people were not social distancing or wearing masks properly.
"We were like... 'We don't feel safe. There's no social distancing. The lines are too long to do any of those rides," Osorio told WFTV.
"A lot of people had their masks below their nose. I counted at least 10 people just with masks either not on or below their nose."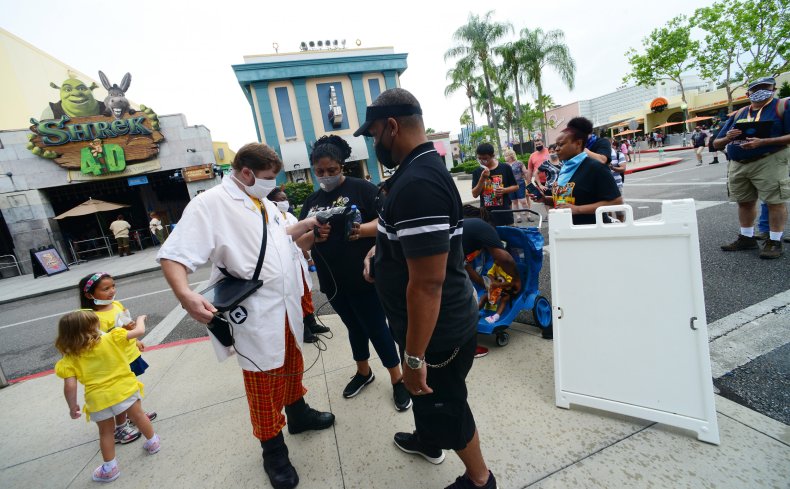 In a statement to Newsweek, Universal Orlando said it continued to "strictly enforce our enhanced health and safety protocols" over the Labor Day weekend, including mandatory temperature checks and facial coverings for guests and team members and limited capacity on rides.
"Over this past holiday weekend, all our parks quickly reached our capacity limits and were closed early in the day," a spokesperson added.
"And despite plenty of signs and warnings, guests occasionally needed to be reminded of our guidelines as they traveled through open-air pathways and public areas. Our guest ambassadors worked to quickly respond as needed."
Elsewhere, experts said the busy Labor Day weekend was a good sign for Florida's tourism industry, which has been severely affected over the past few months as a result of the outbreak.
"It is rebounding right now," Robertico Croes, associate dean for research and administration at Rosen College of Hospitality Management at the University of Central Florida, told WFTV. "It will come back very, very strong.
"It is definitely a glimmer of hope," he added.
This graph, provided by Statista, shows the states with the most COVID-19 cases as of September 7.