Florida Toddler Fatally Shoots Mother on Zoom Conference Call
A toddler in Florida lethally shot its mother during her Zoom conference call Wednesday.
A 21-year-old woman named Shamaya Lynn was on a Zoom conference call with co-workers when a toddler suddenly appeared in the background of Lynn's video feed. Lynn's co-workers then heard a noise and saw Lynn fall over, never to return.
Lynn's co-workers then contacted the police. Officers and paramedics eventually found the woman with a fatal gunshot wound to her head, the Orlando Sentinel reported.
"Investigators determined that the injury was caused by a toddler who found a loaded handgun, which was left unsecured by an adult in the apartment," Altamonte Springs Police Officer Rob Ruiz said in a statement.
Investigators said that the child was one of Lynn's two children, and the gun belonged to the children's father, WESH reported. Authorities are examining whether to charge the father for leaving it unsecured and within the reach of children. The children are reportedly safe and staying with relatives.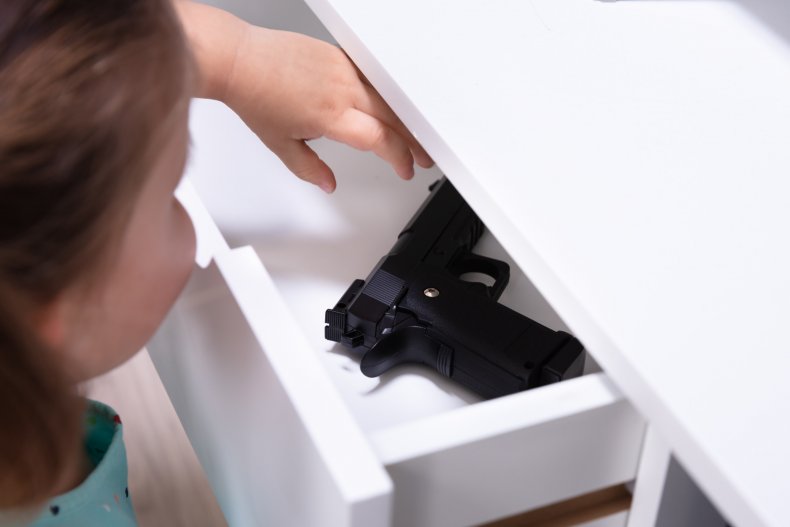 There is neither a national gun violence database nor statistics to indicate how often children with guns kill other people.
However, an estimated one in three U.S. homes with children has a gun, according to a July 2019 report from the Harvard Medical School. That number amounts to nearly 22 million children living in homes with guns. An estimated 3 out of 4 children living in a house with a gun knows where it is stored, even when their parents think they don't, the report added.
While some guns come with safety locks to provide accidental shootings, not all do. Children as young as 3 years old have enough strength to pull the trigger of a handgun, the aforementioned report said.
Some parents might think that their children know the difference between real guns and toy guns. However, in 16 percent of unintentional firearm deaths among children under the age of 13, the gun was mistaken for a toy, according to Nationwide Children's Hospitals.
Parents might also think that their children know better than to touch a gun. However, studies have found that most children will handle any gun they find, even if they've been taught not to, according to Nichole L. Michaels. Michaels is a senior research scientist at the Center for Injury Research and Policy at the Abigail Wexner Research Institute.
Experts recommend that guns be securely kept in a home where children cannot easily access them. Experts also suggest that people keep their guns unloaded with their ammunition stored separately from the firearms.
Newsweek contacted the Altamonte Springs Police Department for comment.