Florida Hit With Tornadoes Hours Before Hurricane Ian Set to Make Landfall
Eight tornadoes touched down in Florida on Tuesday night, just hours before Hurricane Ian is expected to make landfall in the state.
The National Weather Service (NWS) in both Miami and Tampa Bay issued several tornado warnings as Hurricane Ian continued to travel closer to the state. In a tweet, the National Weather Service in Miami confirmed that a tornado touched down near Pembroke Pines.
"This is now a CONFIRMED tornado. Radar data indicates debris. Take cover if in the warning! Will move very close to the path of the previous tornado," NWS Miami said.
In a statement sent to Newsweek on Wednesday, a spokesperson for the Miami National Weather Service said that the forecasting office was able to "preliminarily confirm as many as 8 tornadoes yesterday afternoon and evening across southern Florida."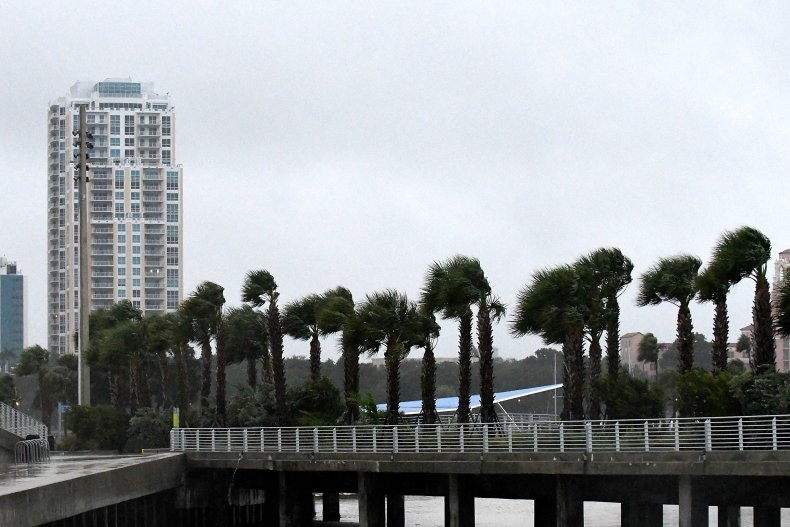 The reports of tornadoes in Florida come as the state continues to prepare for Hurricane Ian, which is expected to make landfall in the state as a Category 4 storm.
In a tweet on Wednesday morning, the National Weather Service in Tampa Bay said that Hurricane Ian was already "impacting our area."
"It is time to SHELTER-IN-PLACE!" the NWS said, adding that residents should expect "Life-threatening storm surge," "Catastrophic flooding," "155 mph winds in the eyewall," and possible tornadoes.
The National Hurricane Center issued an update on Wednesday morning which said that Hurricane Ian is expected to bring "catastrophic storm surge inundation of 12 to 16 feet above ground level along with destructive waves," to parts of Florida.
"Catastrophic wind damage is expected along the southwestern coast of Florida beginning in the next few hours where the core of Ian makes landfall," the National Hurricane Center said.
"Heavy rainfall will spread across the Florida peninsula through Thursday and reach portions of the Southeast U.S. later this week and weekend. Widespread, life-threatening catastrophic flooding is expected across portions of central Florida with considerable flooding in southern Florida, northern Florida, southeastern Georgia and coastal South Carolina."
The White House said that President Joe Biden spoke with numerous officials across Florida about the potential impacts of Hurricane Ian. Biden also directed the Federal Emergency Management Agency (FEMA) to help with preparations and response efforts to the storm.
Florida Governor Ron DeSantis also updated residents on the potential impacts of the storm on Tuesday night, issuing a mandatory evacuation order for several communities.
Following the confirmed tornado, the Palm Beach County Fire Rescue posted several photos that appeared to show the damage caused by the high windspeed. In one of the photos, a car is seen flipped over, while other photos show widespread damage to homes and other buildings.
The Fort Lauderdale-Hollywood International Airport also reported that a tornado damaged several planes.
"A #tornado passed over our general aviation reliever, #NorthPerryAirport (HWO) in @cityofpines tonight 09/27/22, causing damage to several small planes and some hangars. As a precaution, #HWO will be temporarily closed until further notice to fully assess the damages sustained," the airport said in a tweet.
Newsweek reached out to the National Weather Service in Miami for further comment.