Zoos in Florida are closing their aviaries as a precaution after bird flu was detected in the state.
The Marine Science Center in Ponce Inlet shut its avian exhibits after three water birds tested positive for the highly infectious virus, Fox 51 reported on Wednesday. Brevard Zoo in Melbourne, eastern Florida, has also closed its aviaries.
So far this year, Florida has recorded infections in wild birds only, but the outbreak of avian influenza across the U.S. has spread to commercial and backyard flocks in six states. According to the United States Department of Agriculture, the six are Delaware, New York, Maine, Indiana, Kentucky and Virginia.
The USDA says 10 states have reported the virus in wild birds. As well as Florida, they are Kentucky, North Carolina, South Carolina, New Hampshire, Georgia, Virginia, Delaware, Maryland and Connecticut.
The latest case in commercial birds was announced on Wednesday in a poultry flock in Delaware.
The USDA said samples from the flock were tested at the University of Delaware's Allen Laboratory in Newark, part of the National Animal Health Laboratory Network. The presence of avian flu was then confirmed at the APHIS National Veterinary Services Laboratories in Ames, Iowa.
The New York infection was reported on Saturday in a mixed non-commercial backyard flock in Suffolk Country.
Despite the spread of bird flu to commercial birds and poultry, the Centers for Disease Control of Prevention says the virus currently presents little risk to human health.
A professor of vaccine epidemiology at the London School of Hygiene & Tropical Medicine, Mark Jit, told Newsweek on Saturday why humans don't need to fear the virus just yet.
He explained: "Bird flu doesn't transmit easily to humans unless they have very close contact with the infected birds—usually farmers and others involved in handling poultry."
Jit added: "If anyone does get infected with highly pathogenic avian flu it is unfortunately bad news for that person because it tends to cause very severe illness in humans too. But it doesn't transmit easily between humans, so it is unlikely to lead to a large outbreak."
In Florida, a spokesperson for the Marine Science Center, Chad Macfie, told Fox 51: "It was under the recommendation of the Florida Fish and Wildlife Conservation Commission and the State of Florida that we stop admitting birds into the hospital and that also we close down our bird exhibits to the public.
"We have the walk-through areas for feeding the lorikeets and feeding the cockatiels. We've closed those areas to guests at this time, and we're also limiting keeper interaction with the birds as well."
Brevard Zoo is also being cautious. Its director of veterinary programs, Trevor Zachariah, told local NBC affiliate WESH 2 that Brevard County seems to be the "epicenter" for infections in central Florida.
He added: "Out of an abundance of caution, the zoo last week closed its aviaries. That's because humans could potentially bring the virus inside, possibly infecting the birds there."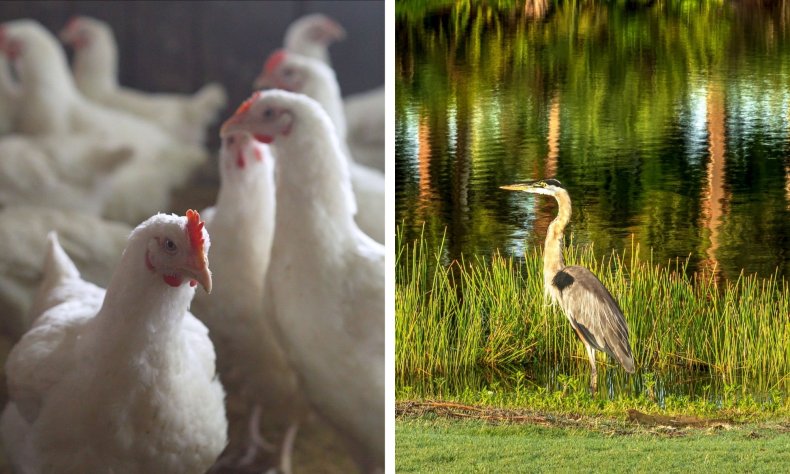 Uncommon Knowledge
Newsweek is committed to challenging conventional wisdom and finding connections in the search for common ground.
Newsweek is committed to challenging conventional wisdom and finding connections in the search for common ground.