Florida Red Tide Update: Manatees 'Pretty Much Comatose'
A toxic algae bloom sweeping across Florida has landed nearly comatose manatees in rehabilitation.
Thousands of dead turtle, fish and eel have washed onto the state's scenic beaches from toxic red tide algae bloom consuming the southwestern Florida coast. Rescuers have rushed to save marine life from blooms of the Karenia brevis algae, which produces brevetoxins and causes neurological issues when consumed. The threatened Florida manatee, which has a population of 6,131, is among the species imperlied by the naturally occurring algae, and rescuers are rushing to protect the mammals.
Five hundred forty manatees have already died this year, more than the 538 deaths recorded in 2017. Since the start of 2018, 80 manatee carcasses have been found on Florida beaches. Scientists finger brevetoxins as the likely killer.
"Manatees swim in it, they breathe it, and they eat it," manager of rescue operations at SeaWorld Orlando Jon Peterson told Newsweek, speaking of K. brevis. When rescuers find the manatees, "they're going to be pretty much comatose. They aren't going to swimming or moving. They might be in full seizures."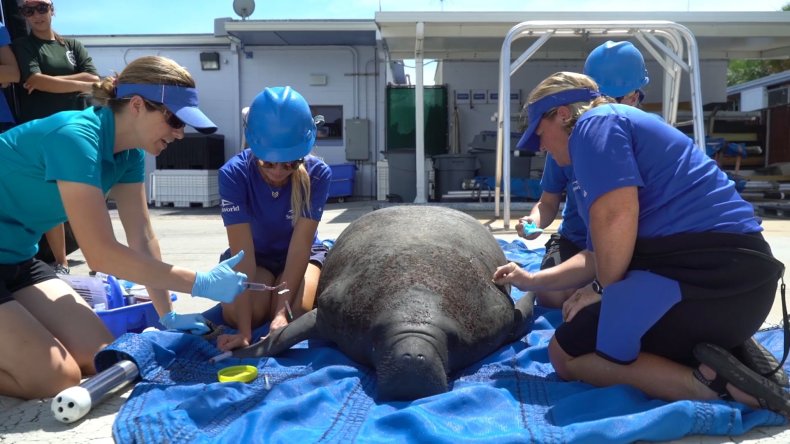 SeaWorld Orlando, which is a temporary recovery center for the marine mammals, has helped eight manatees rehabilitate from debilitation caused by red tide. Currently, SeaWorld rescuers are caring for 24 manatees. Eight of the animals at the facility were brought in after being affected by the algae, while the others needed care for other issues.
Since May 2, when the first manatee impacted by red tide was brought to the SeaWorld, 10 manatees suffering from K. brevis exposure have arrived at the facility. Eight have survived.
When the manatees reach SeaWorld, rescuers flush the toxins out of the animals with fluids. "They literally don't move. They lay in shallow water. We put foam under their head [and] give them fluid," Peterson told Newsweek. "Supportive care is pretty much what you end up doing. Supportive care and hope that you get to them quick enough. If you do, in 24 to 48 hours, you will see the effects of red tide go away. If you don't get to them soon enough, they will die from it."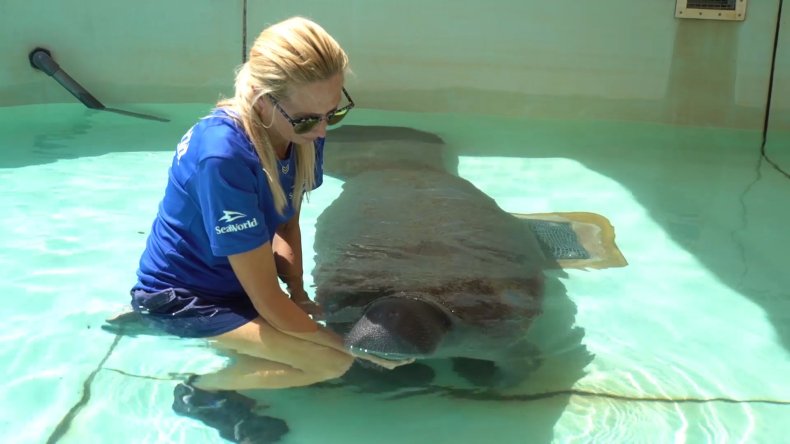 Once the manatees have recuperated, they are transported to more permanent holding facilities via custom trucks or flown, along with attendants, across state lines in specially designed shipping containers.
The complete rehabilitation effort involves the Florida Fish and Wildlife Conservation Commission, which finds imperiled organisms along the coast, and The Manatee Rescue & Rehabilitation Partnership, which coordinates with SeaWorld to resettle the manatees in facilities across the country, including the Cincinnati and Columbus zoos.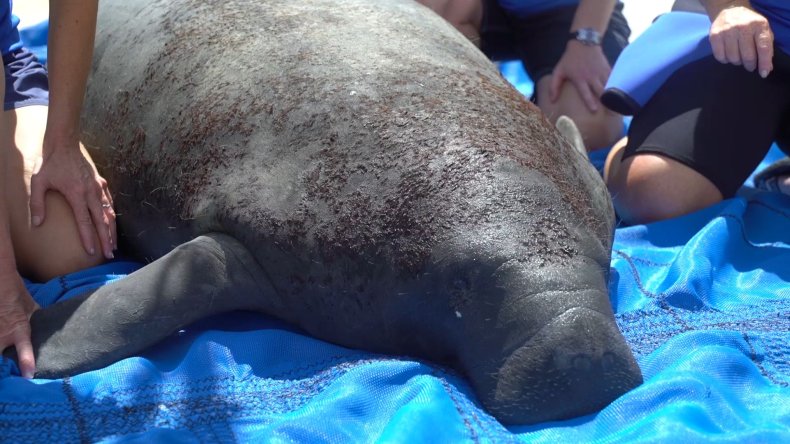 The manatees will be held until the red tide subsides and they can be safely released into the wild. But that might not be until 2019, scientists warn. "We're beginning the season when the blooms occur, so it's likely that it's gonna stick around for a while," Quay Dortch, a program manager for the National Oceanic and Atmospheric Administration who studies harmful algal blooms, said.
K. brevis have become more abundant since the 1950s and 1960s. This year's red tide has been particularly damaging. According to Michelle Kerr, a spokeswoman for the Florida Fish and Wildlife Conservation Commission, this is the longest bloom since 2006.
As long as it lasts, Peterson encouraged Floridians to help with rescue efforts. "If you see an animal that looks like it's in distress," Peterson told Newsweek. "Call your local agencies. Call Florida Fish and Wildlife. I can't emphasize [that] enough with this red tide."