Florida on Track to Host 2 Biggest Football Games of 2020 Season Amid State's 1 Million COVID Cases
The state of Florida will certainly pass 1 million positive COVID-19 cases on Tuesday when the new reports surface from the state's health department. This comes as cases are on the rise around the country. Meanwhile, Florida Gov. Ron DeSantis has required that schools stay open.
What does this have to do with football? Well, in just a little more than a month, the college football national championship will be played in Miami. And nearly a month after that, Super Bowl LV will be played in Tampa.
Florida has allowed fans at high school, college and professional football games, even though it's been a limited capacity.
The state reported 6,658 new COVID cases on Monday, which brings the state's total to 999,319. The sunshine state will hit the 1 million mark on Tuesday, following only Texas and California to have at least a million positive cases.
Despite rising cases, and a new flock of snow birds—those are the northerners escaping the colder weather for the subtropical climate—flocking to Florida, DeSantis maintained he wants to keep the state open for schools and businesses.
"Closing schools due to coronavirus is probably the biggest public health blunder in modern American history," DeSantis said Monday during a news conference. "People who advocate closing schools for virus mitigation are effectively today's flat-earthers."
DeSantis added that even though the state has reported more than 18,700 COVID deaths this year, Florida doesn't compare to other states that have higher rates.
"We've seen cases increase but look at all the other states that are seeing them increase way, way more," DeSantis said. "If you look at the per-capita hospitalizations, we are not even close to the top of the stuff. So I think people should put it in perspective."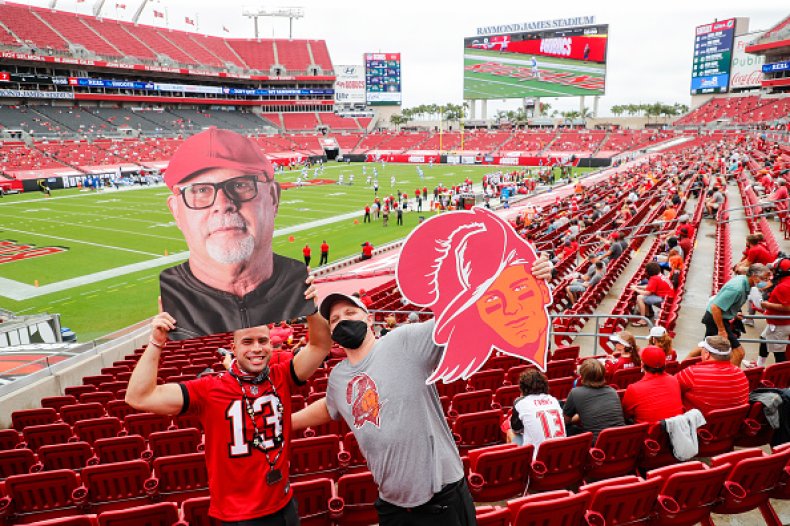 As for sports, all three pro football teams in Florida (Tampa Bay Buccaneers, Miami Dolphins, Jacksonville Jaguars) have allowed limited fans at their home games this season, as have the multitude of college teams in the state.
That means that all nine bowl games in the state, which is about one-fourth of all college bowl games, will likely have fans as well. Two bowl games in other states have already canceled their previously-scheduled games. They are the New Era Pinstripe Bowl in New York City and the Sun Bowl in El Paso, Texas.
The College Football Playoff National Championship Game is scheduled for January 11, 2021, at Hard Rock Stadium in Miami Gardens, and Super Bowl LV is scheduled for February 7, 2021, at Raymond James Stadium in Tampa.