Florida Trump Supporter Punched Neighbor in Face Over Biden Yard Sign, Police Say
Florida police arrested a Trump supporter who injured his neighbor during a dispute over political lawn sign placement last week.
The 55-year-old resident of central Florida's Volusia County, near Orlando, allegedly punched his neighbor in the face amid a confrontation that arose over the pair's opposing yard displays.
A Volusia Sheriff's Office report filed on Friday said that police took the suspected offender, Anthony Vullo, into custody after determining sufficient probable cause for simple assault and battery charges. Vullo was transferred to Volusia County Jail upon his arrest at the scene, according to the incident report.
Police said a conflict involving political campaign merchandise drove the subsequent altercation between Vullo and next-door neighbor Joseph Lebert.
Lebert reportedly approached Vullo after realizing he "took [Lebert's] political yard sign from his yard and threw it across the yard," the sheriff's office stated in its report. Lebert told police Vullo shoved him during what began as a verbal encounter and later punched him in the left side of his face after Lebert pushed back.
"Lebert had obvious signs of injury over his left eye," the police report said, noting that he did not seek medical attention.
The sheriff's office cited both Vullo's and Lebert's respective accounts of Friday's incident in the report, with additional information provided by another neighbor, Nathaniel Parks, who witnessed the altercation and made the call to local police. Parks' written statement supported Lebert's account. Vullo admitted he "tossed" Lebert's political sign and punched him in statements to police.
"Vullo stated he was upset that his neighbor, Lebert, had deliberately placed a political sign in front [of] his to block its view from the road," the report said. "Vullo advised he 'tossed' the sign as he was upset it was blocking his sign."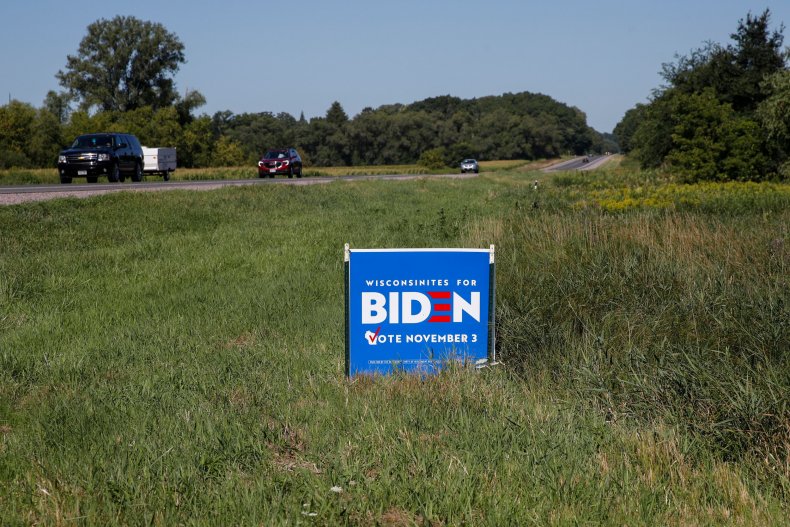 The sheriff's office described the respective yard displays as only "political" signage. However, a news report published by Orlando-based NBC affiliate station WESH on Monday showed the signs were associated with this year's presidential campaigns. Vullo's yard sign supported President Donald Trump's re-election, while Lebert's backed Democratic nominee Joe Biden.
"Yeah, I went to jail for Mr. Trump, for our president," Vullo told the station.
"I thought I was going to be hit or hurt, so there was some physical there," Vullo continued, referring to the fight with his neighbor last week. He called the incident "unfortunate" and said he "was wrong to throw [Lebert's] sign."