Florida 'UFO' Video Likely to Show a Submarine Missile Test
An unusual object was spotted in the skies above the Florida coast on Tuesday, the same day that a missile test was scheduled nearby.
Pictures and videos posted on social media showed a bright white light soaring into the twilight sky around 6.30 p.m. from north of Miami to West Palm Beach.
One sighting was reported as far away as the Bahamas, according to WPTV's chief meteorologist Steve Weagle who shared a clip filmed in Hobe Sound, Florida.
Another video, by Craig Levins, captured the object from a few miles down the coast in Lake Worth.
The sightings sparked rumours of an unidentified flying object.
However, the U.S. Navy's Strategic Weapons Systems confirmed to Newsweek that a "Trident II (D5) missile test flight at sea from an Ohio Class" submarine was carried out that same day.
"This test was part of a scheduled, ongoing system evaluation test. Launches are conducted on a frequent, recurring basis to ensure the continued reliability of the system. Each test activity provides valuable information about our systems, thus contributing to assurance in our capabilities," it said in a statement.
"Test missiles are not armed, and Strategic Systems Programs does not routinely announce missile testing. Information regarding the test launch of Trident II (D5) missiles is classified before the launch."
That scheduled launch was earlier flagged by Dutch archaeologist Marco Langbroek.
Langbroek, who also researches "military space," said the sightings suggested the missile's intended re-entry area was to the east of Ascension Island.
The launch came from a submarine in the Atlantic, he added, citing a warning issued on Sunday by the National Geospatial-Intelligence Agency.
The agency, which operates under the U.S. Department of Defense, deals with satellite and drone surveillance imagery and issues safety notifications.
Trident-II "is a three-stage, solid propellant, inertially guided FBM [fleet ballistic missile] with a range of more than 4,000 nautical miles," according to the nonprofit Federation of American Scientists.
Newsweek has contacted the agency for comment.
In a blog post published on Sunday, Langbroek suggested the re-entry location identified in the warning "might perhaps indicate that this will be a British Royal Navy test with the SLBM launched from a Vanguard-class submarine rather than a U.S. Navy test, but this is by no means certain.
"It could also mean a US Navy test with new hardware, e.g. a more heavy dummy warhead or a new stage engine."
The Royal Navy have not responded to Newsweek's inquiries about the object.
The Florida videos come four months after a "UFO sighting" in New Jersey that turned out to be a blimp.
In a clip viewed more than 300,000 times on Twitter, people were seen standing on the side of a highway filming an object that was said to resemble a flying saucer.
In a separate video posted on TikTok at the time, one man said: "Everybody's stopped to see the aliens, that's what everybody's saying. I don't know if that's true or not, but everybody's blocked the highway, saying the aliens are coming."
The "UFO" was quickly identified as a Goodyear blimp. Other New Jersey residents, apparently closer to the object, shared videos identifying it.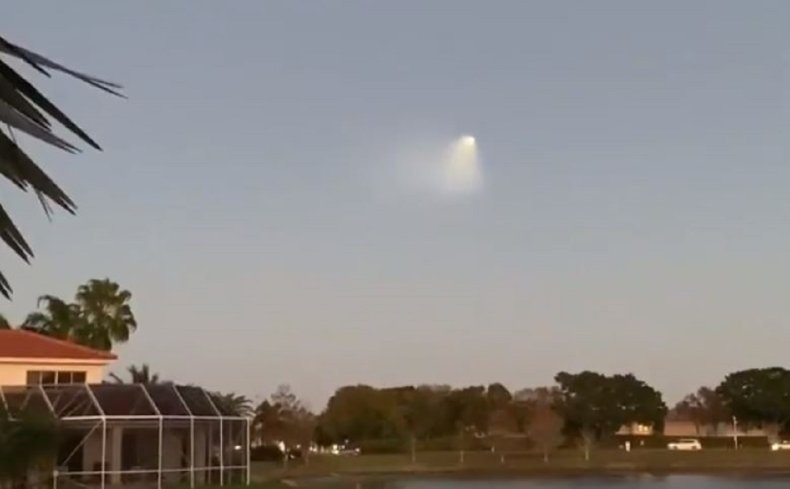 Update 02/11/21: A statement from the U.S. Navy has been added to this article.