Florida Under Tornado Watch, Potential Hail After Storms Rip Through Texas, Louisiana
Several Florida counties are under tornado watch as the Gulf Coast anticipates an incoming strong cold front, which has already caused storms to rip through parts of Louisiana and Texas earlier this week.
The National Weather Service (NWS) has issued the watch for Volusia, Lake, Marion, Flagler, Dixie, Charlotte, Lee, Desoto, Highlands, Hardee, Polk, Sumter and Levy counties. It includes all of Central Florida and extends to the state's border with Georgia.
The watch is expected to last until 5 p.m. on Thursday, although it may be extended if a threat remains into the evening.
A tornado watch means conditions are ripe for tornadoes to form in the area. It is upgraded to a tornado warning if a potential twister has been detected or reported.
The NWS has also forecasted potential hail in the central Florida area.
"Isolated to scattered severe thunderstorms will be possible Thursday from Florida to the Carolinas with damaging winds and a few tornadoes the main threats. Heavy rain from the Mid-Atlantic through New England may lead to urban and renewed river flooding Friday and Saturday," the NWS tweeted.
Less than 24 hours ago, multiple tornadoes swept across East Texas and Acadiana, Louisiana.
Video shows one twister in Orange, Texas, tearing across Interstate 10 on Wednesday afternoon, tossing vehicles into the air and snapping power lines in its wake.
Another tornado caused significant structural damage to dozens of homes in Lake Charles, Louisiana—an area that has suffered back-to-back disasters, including last year's Hurricane Laura.
On Wednesday, at least one person was injured and rushed to hospital.
The storms put roughly 65,000 customers without power in Texas and Louisiana.
Wednesday's extreme weather is expected to move into Mississippi and the Florida Panhandle on Thursday as the major storm system gains strength to move eastward for the weekend.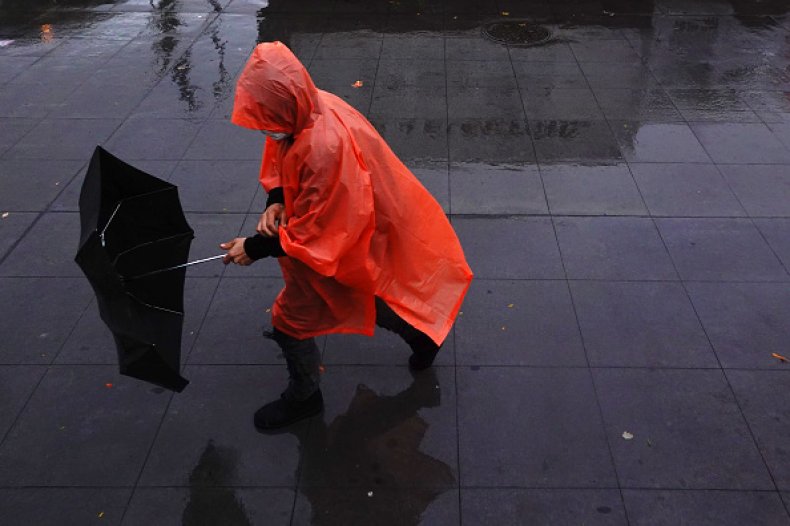 Earlier this week, the New England area, as well as New Jersey and New York, was battered by a "bomb cyclone," suffering heavy rains, strong winds and flash floods, just days after California was hit with more than a foot of rain.
The recent storms and this weekends' forecasted weather are consistent with what climate scientists have predicted for a warming planet.
Florida is expecting a cold front to approach late Thursday.
As the front gets closer, severe storms will become more widespread, but much of the rainy weather is forecasted to move out Friday morning, allowing for a drier weekend just in time for Halloween.
The main threat on Thursday will last from 10 a.m. to 9 p.m. in Florida.