Florida USPS Mail Sorting Machines Dismantled Ahead of Record Election For Mail Ballots
A United States Postal Service (USPS) processing center in Florida's West Palm Beach recently lost at least 15 percent of its mail sorting machines, even as postage centers across the country prepare for a record number of mail-in ballots cast ahead of Election Day.
Union president Kevin Young, who heads a local branch of the American Postal Workers Union (APWU) representing the Palm Beach area, told reporters at South Florida news outlet TCPalm that four sorting machines were out of commission at the USPS center on Wednesday. Young said the affected machines were dismantled over the past month, when broad changes to USPS procedures sparked national concerns about whether the service would be able to manage an influx of mail-in ballots come November.
There are currently 15 or 20 functional sorting machines at the West Palm Beach processing center, which collects and sorts parcels from cities stretched across more than 80 miles of Florida's eastern coast, according to TCPalm's report. It was unclear whether USPS intended to repurpose the decommissioned machines for use at a different facility.
Newsweek reached out to Young and a Palm Beach-area USPS representative for comments but did not receive replies in time for publication.
"The USPS is not commenting on local activity, if any," said Debra Fetterly, a USPS spokesperson whose regional jurisdiction includes South Florida, in reported comments to TCPalm sent via email.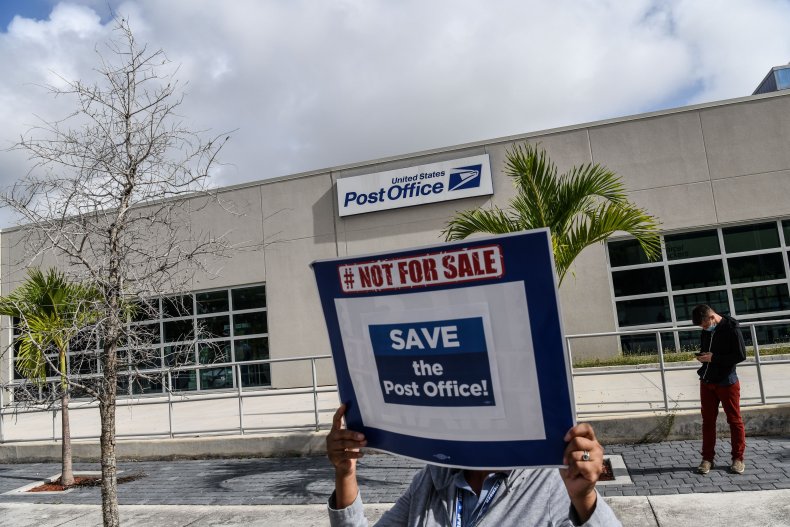 The recent dismantling of USPS sorting machines is not unique to West Palm Beach's processing center. Under direction of U.S. Postmaster General Louis DeJoy, elected to run the federal agency at the beginning of the summer, the postal service was set to remove hundreds of mail sorting machines at processing facilities nationwide. The order was one of several changes to USPS operations that caused delivery delays across the country and, in turn, ignited questions about the alterations' impact on mail-in voting.
DeJoy said earlier in August that USPS policy shifts were part of a larger initiative to address "ingrained inefficiencies in our operations." A postal service representative told Newsweek last Tuesday that ongoing USPS adjustments, in part, come in response to declining mail volumes.
After facing widespread criticism from lawmakers and voters alike, DeJoy later announced USPS would suspend its operational changes, including dismantling machines, until after November 3. He said the decision was implemented in an effort "to avoid even the appearance of any impact on election mail." But while the suspension temporarily discontinued further changes, it did not reverse those previously impacted. DeJoy told congressional lawmakers the decision only paused "the implementation of future transformative efforts" in a statement issued ahead of this week's congressional hearing.
House Speaker Nancy Pelosi criticized the decision after DeJoy's announcement, calling it "insufficient" given the extent of changes made earlier.
"This pause only halts a limited number of the Postmaster's changes, does not reverse damage already done, and alone is not enough to ensure voters will not be disenfranchised by the President this fall," Pelosi said.