Florida Vaccine Site Gives COVID-19 Shots to Individuals Pretending to be Health Care Workers
Administrators working at a federal COVID-19 vaccination site in Florida City, Florida, erroneously gave shots to roughly 50 people falsely claiming to be health care employees, in efforts to secure doses, over the weekend. The site, located south of Miami, saw an influx of hopeful vaccine recipients who were not eligible to receive shots under Florida's statewide immunization plan, on Saturday.
Marty Bahamonde, a Federal Emergency Management Agency (FEMA) spokesperson, told CNN that staff members at the vaccination site reported several individuals seeking immunizations that "were unable to validate that they were health care workers."
"So, the staff, trusting them and taking their word for it instead of turning them away…they gave them the vaccine," Bahamonde reportedly added in comments to the news outlet. "Those people then went out and told their friends, 'Hey, I went in and just said this, and got a free vaccine.' And more and more people started to come in, and then word got out that people were getting vaccine who didn't meet the governor's criteria."
Other local residents learned about the confusion taking place at the Florida City site on social media, and rushed to the venue endeavoring to receive vaccines themselves. According to the Miami Herald, hundreds of shots were ultimately administered Saturday to people who did not meet state criteria deeming them qualified for COVID-19 immunizations at this point in the rollout. Some individuals scheduled to receive vaccines at the Florida City site on Saturday, who were legitimately eligible, confronted tight restrictions that pushed their appointments to the following day once it became clear that many vaccine recipients had successfully duped administrators.
Vaccination guidelines recently updated by the Florida Department of Health stipulate that long-term care facility residents and staff, individuals older than 65, individuals younger than 65 with underlying medical conditions that place them at a higher risk of serious COVID-19 infection, high-risk health care workers, and K-12 education workers, firefighters and law enforcement officers older than 50, are all eligible to receive shots at immunization sites across the state.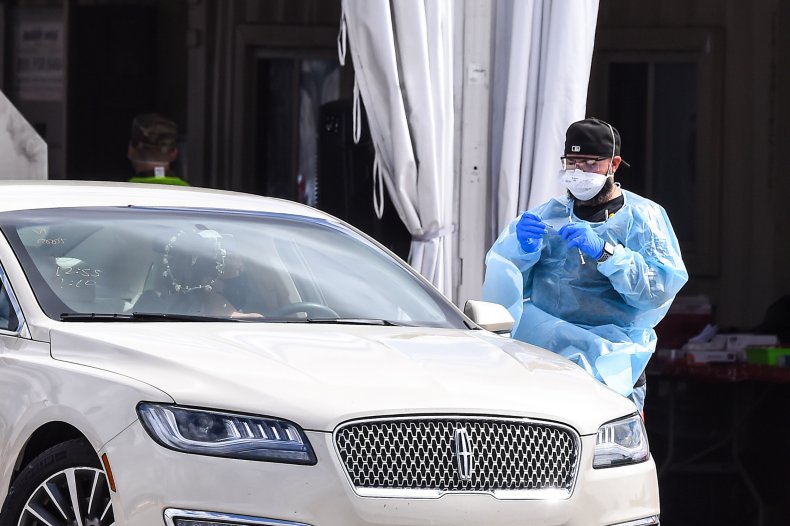 Newsweek reached out to FEMA for additional information and comment regarding the disorder that took place at Florida City's federal vaccination site over the weekend. The agency did not address reports of incorrect vaccine administration, but clarified that determining who is and is not eligible to receive shots is outside its realm of jurisdiction.
"Community vaccination centers are led by states and may be supported by federal government entities including FEMA. Since vaccination sites are led by the state, calling any vaccination center a 'FEMA site' is inaccurate," the spokesperson said in a statement sent to Newsweek on Monday. "State government also determines vaccination priorities and procedures. At no point has FEMA ever been able to determine who is eligible for a vaccine."