Florida Veterans Group Gives Dog to 700th Service Member and First Vietnam Vet
An Oregon man has become the 700th retired service member and first Vietnam veteran to receive a service dog from K9s For Warriors, when he was joined Friday by his new pup, Loose.
Lieutenant Colonel David Wood, 73, served in Vietnam and suffered a massive leg injury in 1968 during a firefight. He also tragically lost his brother in the war two years later.
Wood was awarded the Purple Heart and Combat Infantryman's Badge for his heroics in Vietnam.
He reportedly suffered from post-traumatic stress disorder (PTSD) after retiring from the military in 1995, and had experienced "a lot of emptiness" in the past half-decade, leading him to seek out a service animal.
Wood's wish was granted when he, along with four other veterans, graduated from the K9s For Warriors program after traveling to Florida to train with the service dogs. Wood told local reporters that "coming to K9s For Warriors and receiving Loose has been the best experience of my life.
"I was within the VA system seeking therapy and medication. I was looking for an alternative, and that alternative led me to exploring dogs first," he continued. "I then discovered the world of service dogs. I went online and found K9s For Warriors, and I immediately sensed it was genuine."
Loose is named for another Vietnam War veteran, John Loosen, who reportedly worked as a veterans advocate until his death earlier this year.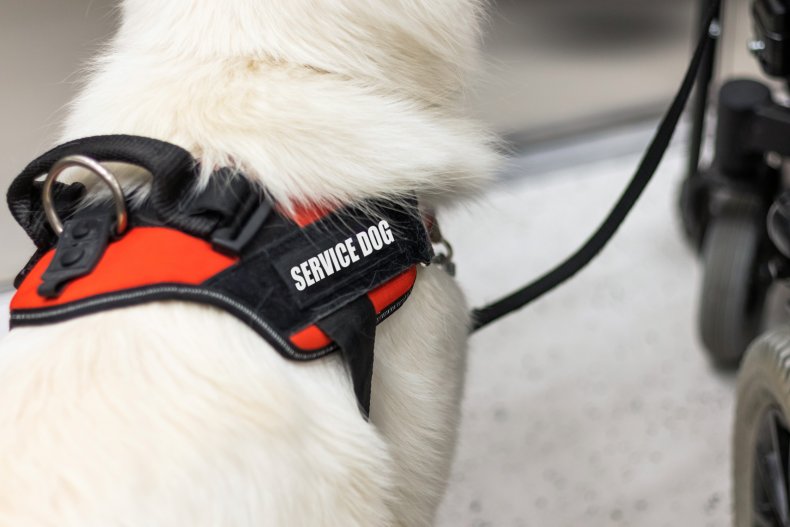 K9s For Warriors calls itself "the nation's largest provider of service dogs for veterans." The company "provides highly-trained Service Dogs to military veterans suffering from PTSD, traumatic brain injury and/or military sexual trauma," with most of the dogs reportedly coming from high-kill shelters.
The 10-year-old Florida-based nonprofit also says that it "supports veterans by navigating our scientifically proven process, pairing them with a trained Service Dog, and supporting them during and after the program."
The group has placed hundreds of service dogs, but never before with a Vietnam veteran. K9s For Warriors CEO Rory Diamond said he hopes that Wood will be the first of many.
"We've served more than 700 warriors struggling with invisible wounds of war," Diamond said. "Lieutenant Colonel Wood's story shows us veterans of all eras can find hope again with a service dog."
K9s For Warriors had previously been placing dogs with veterans of more recent wars, such as the conflicts in Iraq, Afghanistan, and the Gulf Coast. However, recent studies have stated that PTSD affects significant numbers of older veterans as well, like those who served in Vietnam, the Korean War, and World War II.
This milestone was not the only good news that K9s For Warriors received that day, though.
The Stryker Corporation, a significant supporter of the program, also gave the nonprofit a $55,000 donation from their "Own the Walk" campaign.
Newsweek has reached out to the U.S. Department of Veterans Affairs for comment.