Florida Voters Are Split 50/50 On Who They Expect to Win With Three Weeks to the Election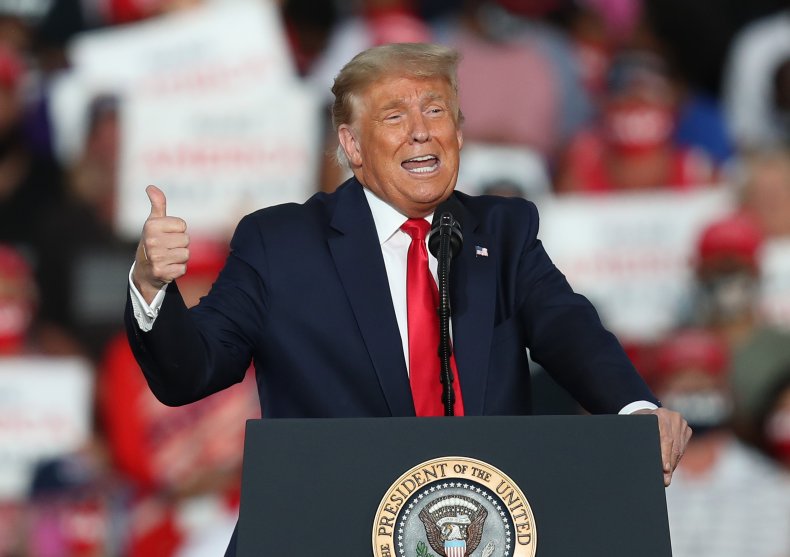 President Donald Trump trails closely behind Democratic presidential nominee Joe Biden in Florida, but voters are almost split on who they believe will win the election, according to a new poll released Monday night.
The poll by Emerson College found that 50 percent of likely voters each believe that Trump or Biden will win the election, although Biden had a 3 percent advantage when respondents were asked who they would vote for.
A 50 percent plurality of likely Florida voters said they intend to vote for Biden, compared to 47 percent for Trump, with 1 percent saying they would vote for someone else and 2 percent remaining undecided.
Biden's advantage is within the poll's 3.7 percent margin of error. It was conducted between October 10 and October 12 among 690 likely voters in the state, 14 percent of whom said they had already cast their ballots during early voting.
The poll was released on the same day Trump was in Sanford, Florida for a campaign stop, holding his first in-person rally since testing positive for COVID-19 only 11 days earlier.
Recent polls have suggested a tight race in Florida, with a handful finding Trump slightly ahead or tied with Biden. A poll released Thursday from InsiderAdvantage showed the president with a 3 percent advantage over his rival, while a September 23 poll from ABC News/The Washington Post giving him his best recent lead of 4 percent.
An October 6 Suffolk University poll showed Trump and Biden tied at 45 percent each, while a September 23 Ipsos poll had them deadlocked at 47 percent. The candidates were tied with 50 percent each in a Florida Atlantic University poll released on September 15.
However, most current polls have given Biden an edge, and there is some evidence that his lead could be growing. An Ipsos poll released October 7 showed Biden up by 4 percent, about two weeks after tying with Trump.
An average of current polls from polling analysis site FiveThirtyEight finds Biden with a 4.5 percent lead over Trump as of Monday. Two weeks earlier, on September 28, Biden held a 1.7 percent advantage over the president.
In the last presidential election, Trump defeated former Secretary of State Hillary Clinton by a slim 1.2 percent margin in Florida, amounting to a little more than 100,000 votes. Polling was close, with October 2016 polls from Emerson college showing Trump and Clinton trading 1 percent leads.
The state remains a key battleground and might be set for another close result, with 29 electoral college votes that could play a significant role in the outcome of this year's election.
"Only 4% of the sample reported voting for the first time," Spencer Kimball, director of Emerson College Polling, said in a statement. "Suggesting that the Florida turnout should not look considerably different from 2016."
Newsweek reached out to the Trump and Biden campaigns for comment.