Florida Voters Prefer Joe Biden's Health Care Plan Over Bernie Sanders' Ahead of Key Primary, New Poll Shows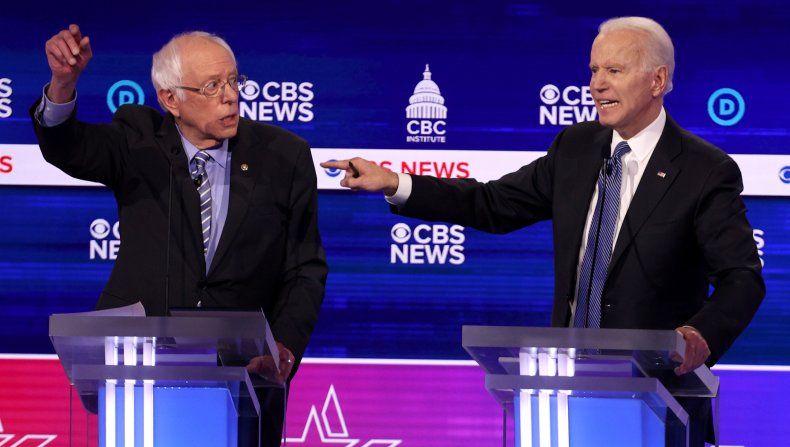 Florida Democratic primary voters prefer former Vice President Joe Biden's health care plan over that of Vermont Senator Bernie Sanders ahead of Florida's primary, a new poll showed Friday.
The Florida Emerson College/Nexstar Poll found that 55.7 percent of 385 likely Democratic voters prefer Biden's health care plan to Sanders' plan, which got 44.3 percent of support.
The two Democratic candidates have vastly different views when it comes to how the health care system should operate in the U.S. Biden's campaign website states his health care plan consists of building on the Affordable Care Act that was signed into law under former President Barack Obama. Biden's plan aims to "insure more than an estimated 97 percent of Americans" by providing a public health insurance option, among other policies.
Sanders wants a complete overhaul of the American health care system. He believes health care is a human right and should be provided to all Americans on the government's dime. His website states that Sanders aims to "create a Medicare for All, single-payer, national health insurance program to provide everyone in America with comprehensive health care coverage, free at the point of service." To accomplish this, Sanders' plan would eventually take every American off of their current health care plans and move them onto a government-run program.
Biden has challenged Sanders regarding his Medicare for All plan at multiple Democratic debates. At the New Hampshire debate in February, he said that while Sanders "wrote the damn bill," a reference to a comment Sanders made in a previous debate, "he's unwilling to say what the 'damn thing' is going to cost."
"It will cost more than the entire federal budget we spend now," Biden said at the time, adding that there is no way Sanders would get the support from Congress required to pass the bill.
Druing that debate, Sanders never explained how the government would pay for Medicare for All, though he has often stated that while his plan would require taxes to go up, it would be offset by the fact that people would no longer be paying for medical treatment.
According to the poll, Biden received 65.8 percent of support from Florida Democratic voters who either already voted or are likely to vote in the primary out of a pool of 434 people. For Sanders, 26.7 percent said they backed or would back Sanders, while 2 percent said they would support Hawaii Representative Tulsi Gabbard. An additional 6 percent said they would support someone else or haven't decided who to vote for.
Florida has 219 delegates up for grabs. Biden and Sanders' current delegate counts stand at 881 and 725, respectively, according to The New York Times. The eventual nominee needs 1,991 delegates to secure the Democratic nomination.
The Florida primary is set to take place on March 17 along with contests in Arizona, Illinois and Ohio.