A federal judge has determined that new voting rules backed by Florida Republicans violate the voting rights of citizens and are therefore unconstitutional.
U.S. District Judge Mark Walker ruled on Thursday that new restrictions, such as reducing drop boxes for ballots and banning organizations from offering aid to people waiting to vote, could not be put into effect as planned. The new rules were part of a legislative package known as Senate Bill 90, which was signed into law in 2021, Reuters reported.
However, Judge Walker determined that the legislation specifically targeted minority voters. This conclusion is based in part on the fact that ballot drop boxes are more prevalent in majority Black communities in the state, according to the judge's ruling.
Florida has recently made national headlines for moves impacting voters in the state, including a bill making possession of more than two ballots a felony that was passed earlier in March. Also this month, Governor Ron DeSantis announced plans to veto a new, recently approved congressional map that could affect the upcoming midterms, and last month, Florida Democrats announced a $2.5 million effort to register more Democratic voters.
A critical provision of the law mentioned in Walker's ruling was that third-party groups must "issue a warning when trying to register voters, including telling voters that their registration application might not be turned in before the voter registration deadline or within the required 14 days." This move was also deemed unconstitutional.
"At some point, when the Florida Legislature passes law after law disproportionately burdening Black voters, this Court can no longer accept that the effect is incidental," wrote Walker in his decision.
"Florida has repeatedly sought to make voting tougher for Black voters because of their propensity to favor Democratic candidates," Walker continued in his lengthy ruling. "In summation, Florida has a horrendous history of racial discrimination in voting."
Walker also warned that the right to vote could come "under siege" due to legislation such as Senate Bill 90. In his ruling, he specifically cited the Voting Rights Act, which was signed into law in 1965 to make racial discrimination during the act of voting illegal. He also evoked the ongoing Russia-Ukraine conflict in his decision, saying that the right to vote should be fully preserved because others around the world "are fighting and dying to maintain the freedoms we take for granted."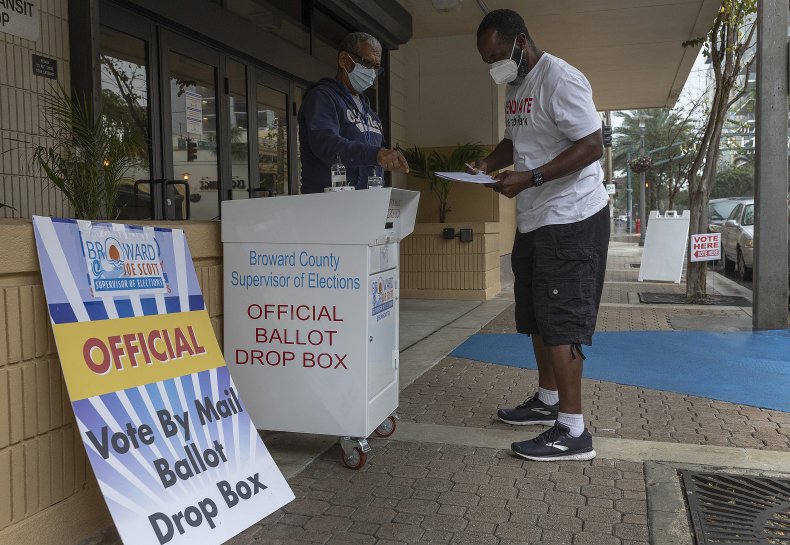 Senate Bill 90 was brought to court by a group of civil rights activist groups, including the League of Women Voters of Florida, according to the Tampa Bay Times. That group, along with other groups such as the NAACP, argued that the bill "runs roughshod over the right to vote, unnecessarily making voting harder for all eligible Floridians, unduly burdening disabled voters, and intentionally targeting minority voters," which Walker agreed with.
Update at 3/31/22, 3:20 p.m. ET: This story has been updated with additional information.