Florida: Why Did Broward County Elections Supervisor Brenda Snipes Resign After Recount?
After receiving heavy criticism for mismanagement, a chaotic recount and a sample ballot that differed from the one voters used on Election Day, Brenda Snipes has resigned as elections supervisor of South Florida's Broward County.
Burnadette Norris-Weeks, an attorney for the Supervisor of Elections Office, first told The Sun-Sentinel that Snipes would step down. Snipes will reportedly leave her post in the Democrat stronghold in January 2019.
Snipes, 75, had been condemned by both Republicans and Democrats after her office failed to submit tallies in the U.S. Senate race between Rick Scott and Bill Nelson on time.
Despite promising that the machine recount would be done by the deadline of 3 p.m. last Thursday, it was missed by two minutes, nullifying a recount that favored the Republican candidate, Senator-elect Rick Scott.
On election night, Broward failed to report vote totals every 45 minutes. The recount also took much longer than most of the other Florida counties. Snipes said her office had misplaced more than 2,000 ballots included in the original count, The Washington Post reported.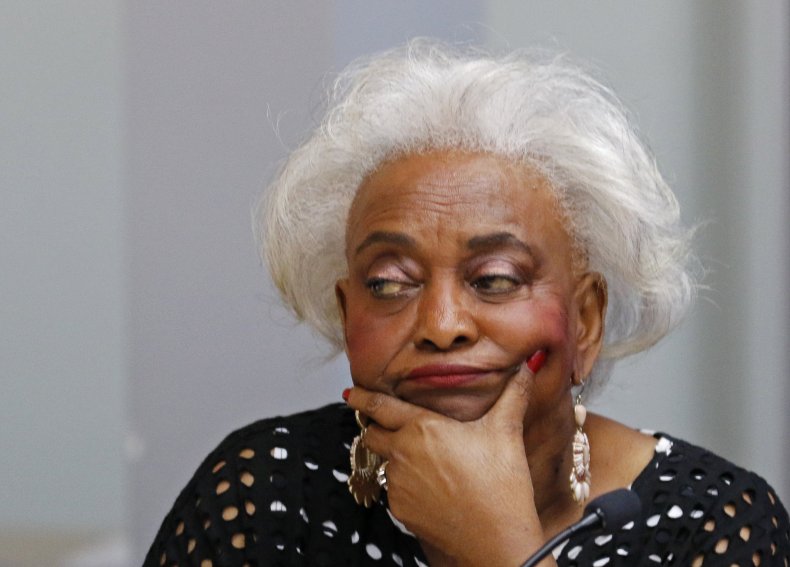 Snipes was appointed to the post in 2003 by Florida Republican Governor Jeb Bush, and her tenure had been beset by controversies. In 2004, some 58,000 absentee ballots were lost, which affected the campaign of presidential candidate John Kerry.
On 2016, it emerged that her office had destroyed 6,000 ballots after they were counted and ordered to be preserved, NBC News reported. For the 2018 midterms, her office sent voters a sample ballot that was different from the actual ballot used on Election Day, which made it difficult to locate the U.S. Senate race.
She has been at the center of much criticism. President Donald Trump tweeted on November 9: "Rick Scott was up by 50,000+ votes on Election Day, now they 'found' many votes and he is only up 15,000 votes. 'The Broward Effect."
Senator Marco Rubio also weighed in, saying Broward County election supervisors were guilty of "ongoing violation of Florida law" that "isn't just annoying incompetence. It has opened the door for lawyers to come here and try to steal a seat in the U.S. Senate and Florida Cabinet."
Snipes was asked by The Guardian whether the criticism was racially motivated, to which she replied: "Probably, probably.
"You know, the protesters have been claiming stuff all week so whatever they're doing, that's what they're doing. That's what they feel like they need to do," she told the paper.
Florida: Why Did Broward County Elections Supervisor Brenda Snipes Resign After Recount? | U.S.