Florida Wildlife Trapper Violently Mauled by Wild Hog: 'All I Remember is Seeing Blood'
A Florida wildlife trapper had to have emergency surgery following an attack from a 200-pound hog that grabbed him by the leg and ripped into his calf.
James Dean was mauled by the wild pig on Monday during a routine call in Melbourne, Fl, after responding to reports of an animal causing chaos in the area.
"I've got stitches on my eye. I've got stitches on my right arm. I don't know how many stitches I've got total, but I got sent in as a trauma alert to the hospital," he told Florida Today.
The hog had been chasing two young girls near a bus stop in a neighborhood on Melbourne's western outskirts, Dean told Newsweek, and fought him as he attempted to transfer the animal from a cage into a transport trap.
It was "a lot stronger" than he thought it would be, he said, and it managed to get loose.
In the end, he was able to regain control of the situation and trap the animal—but he suffered serious injuries in the process. In addition to gash wounds inflicted by the pig, Dean says he fell to the ground and hit his head. He also suffered a significant loss of blood and recalls slipping out of conscious.
"I was able to get him secured enough to get him back in the trap where he couldn't get away," he said.
Dean told Newsweek it is the first time a pig has done anything like this to him in his 20 years working as a wildlife trapper, although he has been hospitalized on other occasions following jobs with different animals—one time involved a pitbull. While he has dealt with hogs twice the size of his attacker in the past, he says this one was just "awful."
"It was scary—because I didn't know if I was going to survive. Because he was all over me," he said.
He called his son, Christian, who met his father and prepared a makeshift tourniquet and contacted 911. An ambulance transported Dean to Holmes Regional Medical Center.
"All I remember is seeing blood all over," Christian Dean told Rick Neale at Florida Today. "It looked like someone had gotten killed there."
"He's definitely dodged death on multiple occasions. He's been bitten by rattlesnakes, water moccasins, you name it," he added.
Dean is currently taking time off work to recover but says he is struggling to cover the healthcare costs and has had to set up a GoFund Me page to cover medical expenses.
As for the hog, Dean told Newsweek the animal was shot after he had been taken to hospital. He is just glad that no one else was hurt—it would have been much worse if it was a young child or an elderly person walking their dog, he said.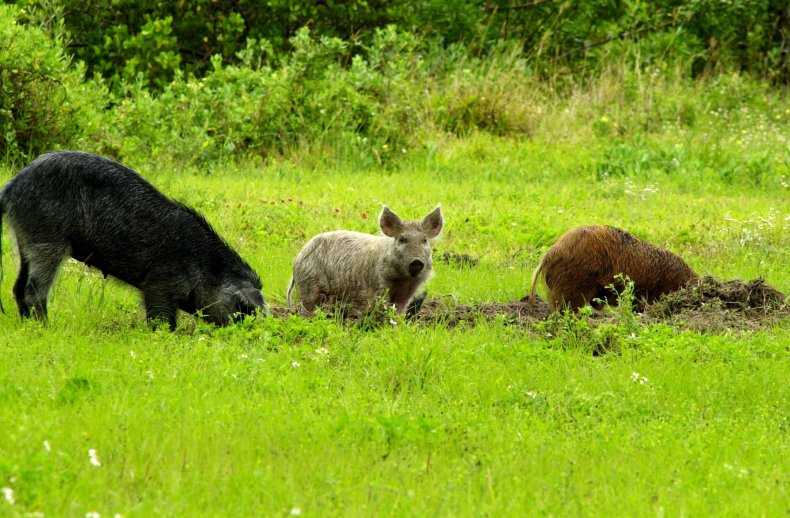 Feral swine are an invasive species that were first introduced to North America in the 1500s on the back of the European settlements and have been introduced multiple times since.
They are now a big problem in Florida and several other regions of the U.S, including Texas, Arkansas and the Carolinas.
According to the U.S. Department of Agriculture (USDA), hogs have been reported in at least 35 states and their range is expanding. Current estimates put their population at more than 6 million and they are thought to cost the U.S. $1.5 billion in control costs and damages.