Florida Will Not Stop Reopening, Despite 6th-Highest COVID-19 Rate in U.S.
Florida Governor Ron DeSantis refused to consider reclosing businesses while insisting reopening plans will move forward as COVID-19 cases continued to soar in the state on Tuesday.
DeSantis told reporters that the state would not be "going back" by reversing course on reopening despite the ongoing spike in new cases, which reached a single-day record of almost 9,600 new cases on Saturday. Although public health experts have said that reopening is likely a driving force in surges seen across multiple states, DeSantis remains unconvinced.
"We're not going back, closing things," the governor said. "I don't think that that really is what's driving it. I mean, people going to a business is not what's driving it. I think when you see the younger folk, I think a lot of it is just more social interactions, so that's natural."
DeSantis added that Florida will be leaving it up to individuals to exercise their personal responsibility in choosing to not expose older and more vulnerable people to the virus, while the state is prepared "to handle what comes down the pike."
"If I had to say one message for folks, I would say protect the vulnerable," he said. "That is really the number one mission we have."
The comments come one day after critics blasted the Republican governor for vetoing the state's entire $29.4 million budget for the Complete Florida Plus Program, which maintains online learning systems that educators say have been vital in facilitating distance learning amid the pandemic.
"This would be one of the biggest negative impacts in higher education in the last couple decades," Tom Messner, executive dean of Library Learning Commons at Florida State College at Jacksonville, told Politico. "It just seems like an error."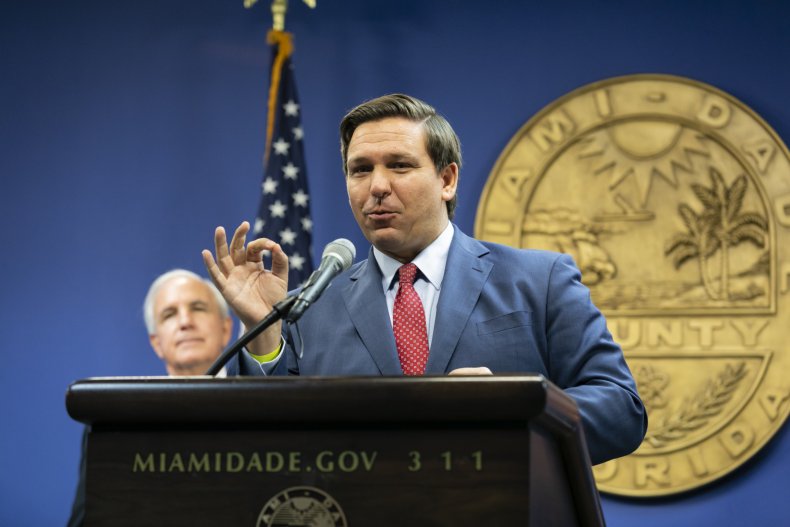 On June 11, DeSantis announced that K-12 public schools would be reopening "at full capacity" for in-person learning in August, citing concerns that the economy would suffer if parents were forced to stay home to care for their children.
"We're taking a smart, safe, step-by-step approach to re-opening, and this extensive data driven plan will ensure Florida students, educators, and families have the confidence and support needed to get students back to the classroom, which will in turn allow parents back into the workforce and allow Florida to hit its economic stride," DeSantis said in a statement.
On Sunday, DeSantis told reporters that Florida is "looking for a way forward" on reopening bars, after the state's Department of Business and Professional Regulation prohibited them from serving alcohol on Friday in response to the spike.
"My view is, I'd rather have those places open, complying," DeSantis said. "I think that's probably less risky than what a lot of the young people end up doing. They're still going to do things, most likely. And you may end up doing things in ways that are that are even more risky."
As of June 29, Florida had over 141,000 confirmed COVID-19 cases, behind New York, California, New Jersey, Texas and Illinois, according to Statista.
Newsweek reached out to the office of DeSantis for additional comment. This article will be updated with any response.
The graphic below, provided by Statista, illustrates the distribution of COVID-19 cases around the U.S. as of June 29 at 2:30 a.m.