Florida Woman Accused Of Stabbing Her Husband To Death Was Once His Step-Daughter
New records and details released by the Orange-Osceola State Attorney's Office have offered a look into the life of a Florida woman and her husband, who she is accused of stabbing to death in January 2019.
Danielle Redlick was arrested and charged with the second-degree murder of her husband, Michael Redlick, as well as evidence tampering after investigators allege she attempted to clean up the crime scene. Redlick also reportedly waited 11 hours to call 911 and report that her husband had been stabbed.
Records released from the state attorney's office indicate that Redlick told authorities that she and Michael had known one another for three years before they were married. She also told them that they had been married for 17 years when Michael died, Fox 35 reports.
A family friend of the Redlick's told cops in a separate interview that Michael, who was 20 years older than Danielle, had married a girlfriend of his in the late 1990s after she was diagnosed with breast cancer, solely to place the woman on his health insurance.
"She had passed away. After that had occurred, Mike had a relationship with his step-daughter, her daughter," the friend said to investigators, Fox 35 reports.
The couple had two children together, a 15-year-old daughter and an 11-year-old son, who told investigators that their parents frequently fought. The couple's son described both of his parents as alcoholics when speaking to local police,
the Orlando Sentinel said
.
On the morning of Jan. 12 — when Danielle called the police to report Michael, an executive at the University of Central Florida, was dead — she said she believed he had suffered a heart attack. Later, she admitted that they had argued the night before and said Michael had stabbed himself.
"We had an altercation and he stabbed himself, and I ran and hid in the bathroom and when I came out I was trying to help him and saw he was lying in blood and then I tried to help him and I couldn't," Danielle told the 911 dispatcher. "...I've been trying to figure out what to do."
Investigators said they discovered bloody towels and a bloody mop near the body when they arrived at the Winter Park, Florida home and the house reportedly smelled of bleach. There was also a blood trail leading into the master bedroom and an indication from the blood trail that someone had attempted to clean it up,
the Sentinel said.

When questioned by the cops, Danielle reportedly changed her story, saying that she couldn't find a phone after she exited the bathroom to find Michael lying in the floor and bleeding from his self-inflicted stab wounds. Since she slipped in his blood, she attempted to clean it up and then passed out while trying to revive him on Friday night.
Once she woke up Saturday morning, Danielle said, she cleaned up some more of the blood and then called the police.
According to the police, phone records indicate Danielle checked messages on a dating app called MeetMindful on Saturday morning before she called 911. The phone was also reportedly used to search for instructions on how to slit wrists, the Sentinel said.
When cops arrived, Danielle was found with cuts to her wrists, prompting her to be taken to the hospital where authorities considered admitting her under Florida's Baker Act, a law which allows a patient to be admitted for 72-hour observation if they are thought to be a danger to themselves or others.
Danielle told police that text messages between herself and a man she met on MeetMindful prompted the argument with Michael after he found the messages. The couple had previously lived apart for several months in 2018, but Michael reportedly moved back into the family home in October. Danielle had previously filed for divorce, saying that the couple's marriage was "irreparably broken" but a judge threw the case out when it was revealed Michael had not been served with divorce papers.
Danielle also told authorities that Michael had "basically" cheated on her, saying, "We had had some issues and, last year, he basically cheated on me and it was a big, long drawn-out thing. And we finally came around to living together again and possibly trying to work it through, but I think that really wasn't happening and, in my mind, it was inevitably going to probably separate again."
According to the Sentinel, Medical examiner Dr. Sara Zydowicz determined Michael's stab wound was not self-inflicted and that some of the wounds on his body appeared to be defensive. The wound in Michael's shoulder would have bled out in two to six minutes, Zydowicz said.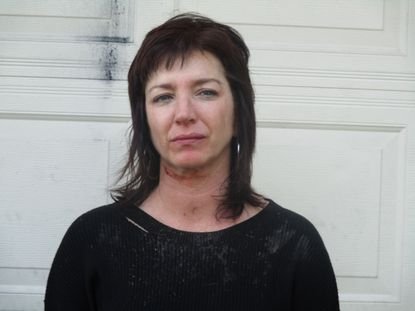 Danielle Redlick has been charged with second-degree murder and evidence tampering in the death of her husband, Michael Redlick. According to the Orange-Osceola State Attorney's Office, Redlick waited 11 hours to call 911 about Michael's death.
Orange-Osceola State Attorney's Office