A Florida woman who was arrested for a DUI Sunday gave police a unique defense for her erratic driving: She was not drunk but had simply been eating an egg roll.
Maria Jurgilewicz, 45, of St. Petersburg, was pulled over around 2 a.m. ET by an officer from the Pinellas County Sheriff's Department in order to "check the well being of the driver for sick, injured or impairment." She had reportedly been swerving and driving in a dangerous manner.
The officer observed that Jurgilewicz's speech was "slurred and mumbled," and she had a strong odor of alcohol on her breath, according to the arrest affidavit.
Jurgilewicz also reportedly had trouble following simple instructions given by the deputy. Upon further questioning, she told law enforcement that she had been eating an egg roll while driving, causing the car to swerve.
The arrest affidavit does not indicate that an egg roll or any pieces of an egg roll were found in Jurgilewicz's possession.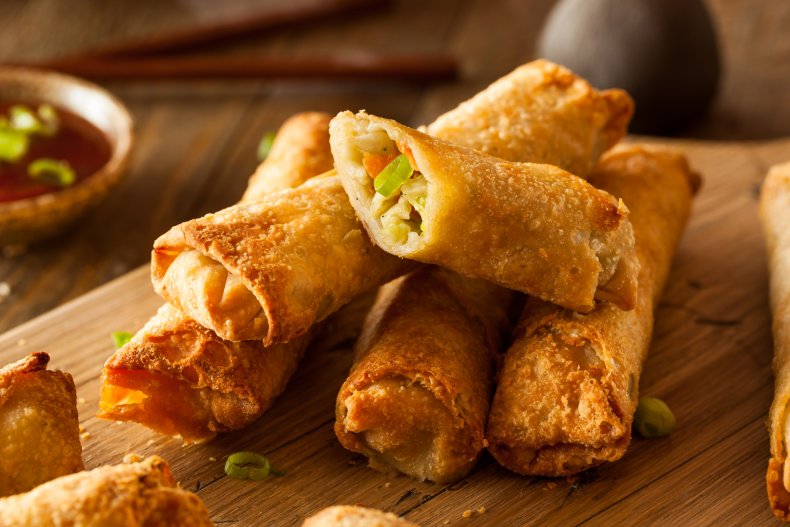 While an egg roll could not be located, a number of other things were found in Jurgilewicz's car, the affidavit said. This included "a cut up red plastic straw with white powdered residue on the inside," in addition to a variety of loose pills found in containers and plastic baggies.
The pills were a mix of controlled substances and some were prescription only, but Jurgilewicz reportedly did not have a prescription for any of them.
Some of the pills were later identified by investigators as the opioid Tramadol. The medication is typically used to treat moderate to severe pain but is abused as a narcotic.
Jurgilewicz later admitted to law enforcement that she had been drinking at her boyfriend's house earlier in the night. Investigators believe she was also under the influence of a number of the pills that had been in her possession.
Law enforcement did not believe she was suffering from any mental health issues based on field observations at the time of the traffic stop.
Jurgilewicz was arrested for two misdemeanor counts of driving under the influence and possession of drugs without a prescription. Due to the Tramadol in her vehicle, she was also booked on an additional charge of felony possession of a controlled substance.
Newsweek has reached out to the Pinellas County Sheriff's Department for comment.
Jurgilewicz, who has previous convictions for disorderly conduct and violation of probation, was released from jail on her own recognizance later Sunday. She had originally been booked into the Pinellas County Jail on a $2000 bond.
Newsweek also discovered documents from a family court case that had been filed by Jurgilewicz.