Florida Woman Accused of Extortion After 'Maliciously' Sharing Photos of Man's Genitals on Social Media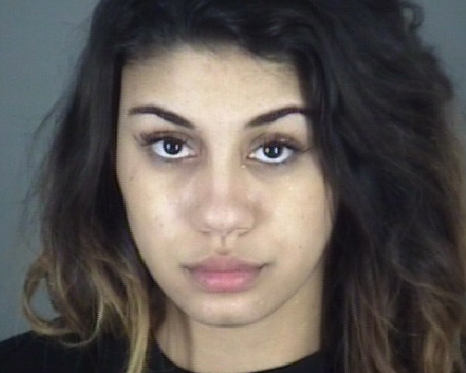 A Florida woman has been accused of extortion after "maliciously" sharing images of a man's genitals to multiple social media platforms, a police report says.
Breyanna Helen Dean, 24, of Port Richey, was detained by the Pasco County Sheriff's Office on April 27 after allegedly circulating the illicit pictures via direct messages to an unknown number of recipients. One page of the arrest report was published yesterday by The Smoking Gun.
According to the arrest report, Dean had used an old phone belonging to the victim to access his social media profiles and send the snaps. The male victim was not named in the records.
Police said it was alleged Dean changed passwords on the victim's accounts, which stopped him from deactivating them. She then demanded money to "stop her actions," the report read.
"[Dean's] actions directly exposed the victim to disgrace," it continued. "Evidence exists of the defendant having access to the social media account, due to a screenshot she sent to the victim, via text message, of a post she had not yet made public. Probable cause exists for extortion."
Online records from the Pasco County Sheriff's Office confirmed Dean had been arrested. She was released from jail the same day after posting $10,000 bond on the extortion charge.
According to The Smoking Gun, a website known for regularly posting legal documents and mug shots, the suspect has prior convictions including disorderly conduct and careless driving. Last year, Dean was at the center of an attempted cyberstalking injunction, the outlet reported.
A Facebook account purportedly linked to Dean states she is from New Bedford, Massachusetts, and is not in a relationship. The exact link to the alleged extortion victim remains unclear.
Extortion relating to graphic images is often referred to as "sextortion," according to the FBI's Internet Crime Complaint Center, or IC3. The agency said in a media release last year that complaints about sextortion attempts were on the rise. In 2018, IC3 said it had received 51,146 "extortion-related" complaints—which was a massive 242 percent increase compared to the previous year.
Most were from "a sextortion campaign in which victims received an email threatening to send a pornographic video of them or other compromising information to family, friends, coworkers, or social network contacts if a ransom was not paid," its Internet Crime Report said, noting that total losses topped $83 million.
If you're a victim of sextortion, or know someone else who is, call your local FBI office or toll-free at 1-800-CALL-FBI. The National Center for Missing & Exploited Children runs a cyber tipline.