Florida Woman Calls Walmart Mask Wearers 'Cult Members' After Refusing to Wear One Despite Mandate
A Florida woman called people wearing masks at a local Walmart "cult members" after refusing to wear one despite a countywide mask mandate.
In a video captured by an onlooker, the woman is heard shouting, "You guys are cult members. I'm not wearing a mask."
The incident occurred Sunday at a Walmart Neighborhood Market in Winter Springs, Florida, which is located north of Orlando in Seminole County.
County officials announced on June 29 that residents would now be required to wear face coverings while in public in an effort to mitigate the spread of the coronavirus.
"Every person working, living, visiting or doing business in Seminole County is required to wear a face covering consistent with [Centers for Disease Control and Prevention] guidelines while at all businesses, places of assembly and other places open to the public," according to the executive order.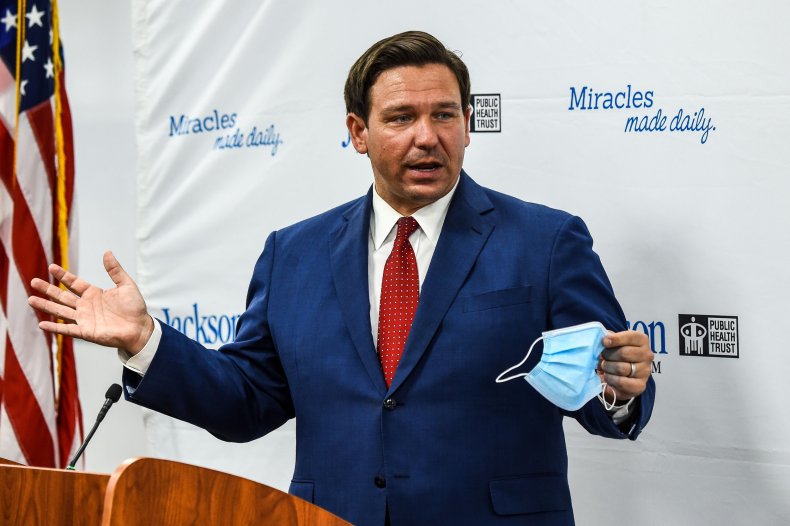 A Walmart store manager had reportedly asked the woman, whose name has not been publicly disclosed, to leave because she refused to wear a mask, the person who filmed the video said.
Seminole County Sheriff Dennis Lemma previously said that deputies would enforce the countywide mask order if necessary but that he expected it would not come to that, ClickOrlando.com reported.
"We're going to come, and we'll probably meet with a business owner and discuss things like trespass warrants," Lemma said. "A correctional facility or incarceration should never be an option for this thing. It is more dangerous to put somebody into the back of a patrol car and potentially introduce them into a correctional facility for violation."
In this particular case, Walmart employees had followed and self-enforced the county's mask mandate, Lemma wrote in an email to Newsweek.
"We were not asked to respond regarding any potential violation," he wrote.
News of the woman's outburst came the same day that Walmart, the world's largest retailer, announced it would become the latest national chain to require that all customers wear masks while shopping, regardless of whether specific localities already have an order in place.
"As the number of confirmed cases has spiked in communities across the country recently, so too have the number and types of face covering mandates being implemented," according to a Walmart news release Wednesday. "To help bring consistency across stores and clubs, we will require all shoppers to wear a face covering starting Monday, July 20."
Florida has become the world's newest coronavirus epicenter. The state—which was one of the last to shut down and one of the first to reopen—exceeded the entire U.K. in confirmed coronavirus cases on July 15.
The state's health department reported 301,810 total cases—an increase of 10,181 new cases from the previous day.
The U.K., comparatively, reported total cases 291,373 as of July 15, according to a New York Times database.
Update (07/16/20, 1:01 p.m.): This article has been updated to include comments from Seminole County Sheriff Dennis Lemma.