Florida Woman Charged With Assaulting Sister With Christmas Decoration
A Florida woman was arrested on Wednesday after an altercation involving a holiday decoration occurred.
Shirley Rogers, 55, was arrested by Sumter County police after allegedly striking her sister with a Christmas decoration during an early-morning domestic dispute, according to court records obtained by The Smoking Gun.
Police arrived at the home in Oxford shortly after 2:30 a.m. Rogers had been arguing with her boyfriend when her sister "attempted to diffuse the situation" but was unsuccessful, the court records said.
The sister said that while she was trying to calm Rogers down, Rogers pushed her in the chest before grabbing a "Christmas cone (which is a beaded cone tree used for decoration) and struck her in the left side of the torso."
After striking her sister, Rogers left the scene. Authorities came to the residence when her sister asked Rogers' boyfriend to call 911. He left the scene before police arrived.
Officers noted that her sister had a "small vertical cut on her left side, in the area she indicated the defendant had struck her." She complained that her left side and ribs were hurting as a result. It is unclear if she received medical treatment.
Police determined that Rogers violated a Florida law on "battery touch or strike."
Rogers was arrested on a misdemeanor battery charge and booked at the Sumter County Detention Center in Bushnell, Florida. She has no prior arrests for battery and was held without bond because of the domestic nature of the case.
The arrest affidavit did not indicate whether the Christmas decoration was seized as evidence.
Newsweek reached out to the Sumter County Sheriff's Office for comment but did not hear back before publication.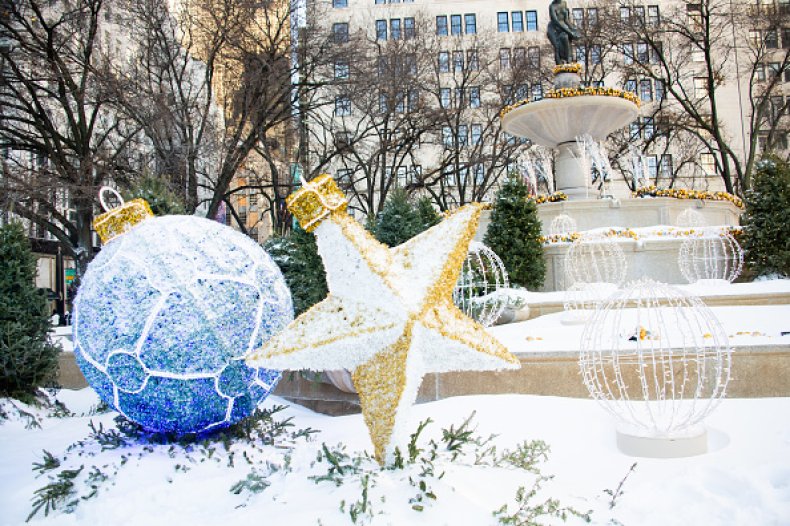 Last year, a similar incident occurred in Clearwater, where a Florida woman hit her boyfriend with sections of her family's artificial Christmas tree.
Pinellas County police found Krystall Graham "actively engaged in a physical altercation" with her longtime boyfriend after they responded to a disturbance call, according to The Smoking Gun.
Graham told the police the couple began arguing because her boyfriend had set "the TV volume on too high while she was sleeping." In response, she had "squared up to the victim and was screaming in his face."
She admitted to police that she "took apart an artificial Christmas tree and threw three sections of the tree" at the victim, who had scratches and abrasions on his face, neck and stomach, according to the arrest affidavit.
She was booked into the county jail on a misdemeanor count but released the next day on her own recognizance.