Florida Woman Fined $53,000 for Feeding Alligators and Vultures Behind House
On Wednesday, a Ibis, Florida woman was permanently enjoined from feeding wildlife around her home by a local judge—and ordered to pay $53,000 to settle a resultant lawsuit from the Ibis Property Owners Association.
Irma Acosta Arya, whose home borders the Grassy Waters Preserve, drew the ire of her neighbors for feeding vultures and alligators on her property for years, driving down the value of and damaging their property while jeopardizing the safety of the animals she attracted and that of her neighbors, their children, and friends.
Complaints about Arya's activities date back to 2016. One neighbor reported in a story about Arya printed in The Palm Beach Post last August that she put out 20-pound bags of dog food twice a week for the raccoons and other animals to feed off of—140 pounds plus in total, which she claimed was for a dog belonging to a relative. Neighbors also reported seeing Arya place platters of white bread finger sandwiches out for the animals—and whole raw chickens.
Another neighbor said they had seen Arya wade into the swamp to hand-feed alligators, a dangerous activity that breeds familiarity between the alligators and humans, and is highly discouraged by wildlife experts. Arya allegedly stopped feeding the alligators after Florida Fish and Wildlife had to pull a now-too-familiar-with-humans adult alligator out of a neighboring home and relocate it.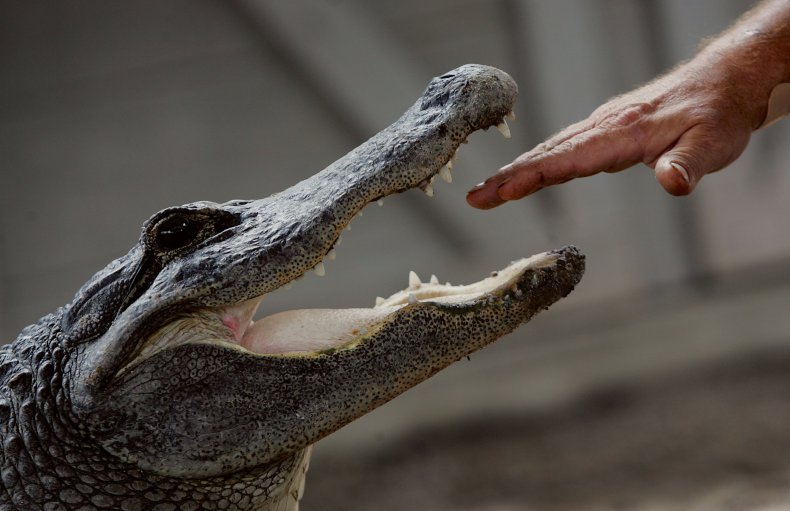 Arya's activities, mostly carried out at night, would cause violent feeding frenzies, neighbors said, and had drawn a bobcat to the neighborhood as well as the large flock of vultures and alligators.
"The vultures just vomit everywhere," said Siobhan Casimano, a neighbor of Arya's, in The Palm Beach Post article. "Defecating and vomiting. It's just gross. We can't even go back down to the house."
The odor, she added, was like the "smell of a thousand rotting corpses."
Casimano also reported that the birds of prey would dent her vehicles and tear holes into screened enclosures with their beaks. Since black vultures are federally protected wildlife, the neighbors' countermeasures against the onslaught of birds were limited. One neighbor bought motion-activated owl decoys to scare the vultures away. Instead, the vultures tore them to pieces.
"If that was the end of it and you could guarantee that, I'd be very happy," Ibis Property Owners Association Gordon Holness told members of the press after the hearing. "This is a lady with a compulsion. Hopefully, she understands the extreme penalty she'd be under if this does reoccur. You get cynical after a while."
Arya was allegedly caught in the act of violating a temporary court injunction in December by night vision cameras. She did not attend the hearing but was represented at it by her husband and son, and will be responsible for attorneys fees and sundry costs and fines, which must be repaid by February 14, according to the court ruling by Judge Scott Kerner.
James Potts Sr., Arya's attorney, told reporters that she cares about both animals and humans—and that neighbors and visitors often feed the area's wildlife as well. He says that Arya, however, has not fed the wildlife near her home "for many months." The Ibis Property Owners Association disputes this statement.