Florida Woman Found Dead in Pond Was Attacked by Alligator, Family Says
A 29-year-old woman found dead Sunday in a Hillsborough County, Florida retention pond died from an alligator attack, according to her family.
Law enforcement was called to the scene on the evening of July 4 after the body was found in the retention pond behind the Landing Bar and Grill in Valrico, roughly 20 miles from Tampa. An underwater recovery team working with the Hillsborough County Sheriff's Office was able to recover the body, according to a press release.
Family members of the deceased identified her as 29-year-old Shayla Silva. They said she often swam in the pond and they are "in grief" over her death, but did not want to comment further.
The cause of death is still under investigation, pending an examination by the Medical Examiner's Office. However, the Sheriff's office said the young woman "did appear to suffer injuries consistent with an alligator attack."
Investigators also confirmed the pond is a known habitat of alligators in the area, saying "I can tell you that alligators are known to frequent the retention pond where the decedent was located per our Underwater Recovery Team," the spokesperson said in a statement.
The Florida Fish and Wildlife Conservation Commission is also assisting with the investigation. Trappers had placed traps near the vicinity of the pond as of Monday.
"You're at breeding season and basically the females are laying eggs and nesting. It could definitely be a bad situation for someone in the water," said Chad Matthews, a professional trapper in the area.
"Fatal alligator attacks are rare," he continued, "but the pond is home to a large gator that has become comfortable around people."
"There's a gator in there that's probably between 8- and 9-foot, at least a couple years ago. It's been there for years, as far as I know. I do know that people liked to throw marshmallows and feed the gator," he said.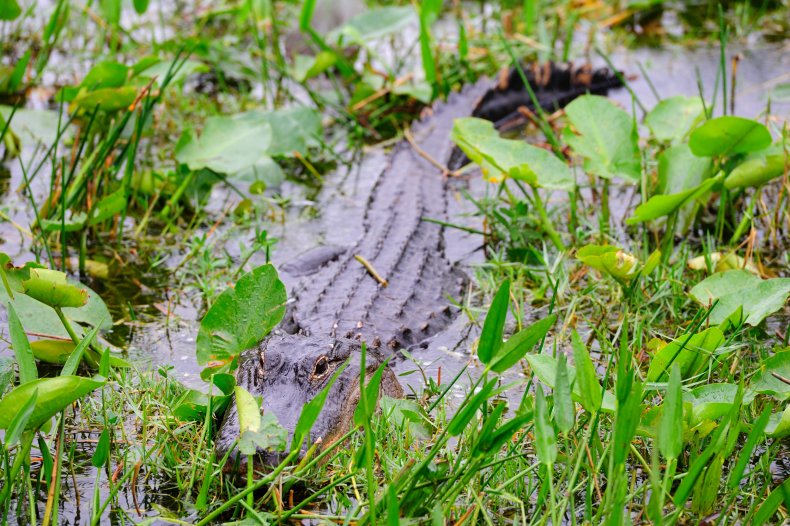 According to Inside Science, alligator attacks in Florida "have been on the rise, increasing from an average of just one every three years between 1988 and 1999 to about seven per year between 2000 and 2016."
"What a tragic ending to the 4th of July holiday for this woman's family and friends," said Sheriff Chad Chronister. "I want to thank our local partners for their cooperation with this investigation as we work to learn what led up to her death."
Newsweek reached out to the for comment.