Florida Woman Hides in Store Ceiling for Six Hours to Try to Avoid Being Arrested for Shoplifting
A woman in Florida has been arrested following a daring attempt to evade capture for allegedly shoplifting by hiding in the store's ceiling for several hours.
Kristina Perkins, 37, of North Fort Myers, was arrested after police were called to the Big Lots store on Thursday, October 3.
Deputies from the Charlotte County Sheriff's Office said they were called to the scene at around 7:31 p.m. after the manager reported a female shoplifter.
The suspect had allegedly been in the store for several hours and had gone into the women's restroom with a shopping cart full of items. When the manager attempted to enter the restroom to check in on Perkins, several garbage cans were found to be in place blocking the door.
The manager then told Perkins that the authorities had been informed and they were on their way.
When the suspect still did not emerge from the bathroom, the manager forced their way in and noticed several ceiling tiles were missing and Perkins was nowhere to be seen.
When police arrived at the scene, they were able to make visual contact with Perkins while she was in the ceiling by removing certain tiles. However, she refused commands to give up and come down and continued to move around the ceiling space to try and evade capture.
As well as multiple deputies from the police department, officials from the Charlotte County Fire Department and Charlotte County Facilities assisted with the operation, which involved using ladders and thermal imaging systems.
"Big Lots was evacuated due to the danger of Perkins falling through the ceiling," the Charlotte County Sheriff's Office said in a statement. "Over the course of several hours, a systematic search of the ceiling was completed."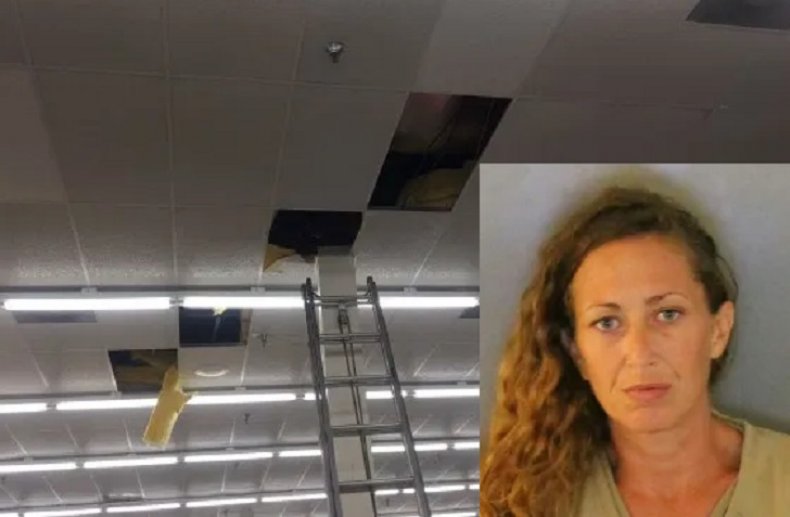 During the search, the suspect's bag was located. Inside officers found three syringes and a spoon with white residue that later tested positive for morphine.
The search eventually ended at around 12:20 a.m., but one deputy remained at the scene for surveillance. Around one hour and 20 minutes later, Perkins eventually exited the ceiling and climbed down a stack of shelves, where she was arrested.
Perkins was later charged with felony criminal mischief, petit theft (3rd offense, felony), possession of drug paraphernalia, resisting a merchant, and resisting law enforcement without violence.
The Big Lots store sustained significant damage during the stand-off to their ceiling, duct work, and dry wall. The store will remain closed until the damage has been fully repaired.