Florida Woman Looking to Hire Someone to Kill Her Husband Fooled to Call and Email Undercover Detective
A Florida woman in jail for practicing health care without a license is facing a fresh felony charge after allegedly trying to hire a hit on her husband, police say.
Unfortunately for Jesusadelaida Lopez, 40, she was discussing the plot with an undercover detective and is now facing an new charge of solicitation to commit first degree murder, the Polk County Sheriff's Office confirmed in a release published yesterday.
Investigators said Lopez believed that her partner Daniel was set to testify against her and proposed making his death look like a "robbery gone wrong."
Lopez has been in the county jail since February this year, when she was caught offering supplements and weight loss drugs, again to an undercover officer, in an operation run out of an Auburndale gym.
Charges included dispensing drugs without a prescription and violating probation.
She was previously arrested in June 2018 on six counts of unlicensed practice of health care after portraying herself as a nurse at a weight loss clinic called "Drop It Like It's Hot." Lopez got off with probation in that instance.
In July this year, a battery charge was added after Lopez got into a fight with an inmate and tried to gouge out her opponent's eyes, Sheriff Grady Judd said in a briefing yesterday. Judd noted her behavior then escalated further, even though she was behind bars.
He said: "She decided Daniel Lopez was a witness against her in this case and we understand that she is going through a divorce and child custody, and she's thinking 'if my husband were out of the way that would take care of my witness and child custody issues.'"
"She [Lopez] starts talking around about how she wants him murdered. And of course, being the wonderful people that we are at the sheriff's office, we thought we would accommodate her in her scheme so that we could keep Daniel alive," the Polk County sheriff added.
Investigators said the undercover counter-operation started in August, with the detective communicating with Lopez via phone calls and a jail email platform.
The suspect told the officer she wanted a tree removed from her yard. When the detective asked for a photo of the tree, Lopez sent a picture of her husband.
Police said Lopez agreed to pay $2,000 to the person she believed to be a hitman, with $500 up front. She also sent a hand-written letter containing additional instructions.
"Can it be like an accident, like a robbery gone wrong or something that can not come back to me like it was a plan," the note, published by the sheriff's office, read, adding: "If it can be done asap that would be great. He is the reason why I'm in here, he is the main key witness. Sooner that is done I come out. I'm so excited to meet you. Burn this letter."
Read the full letter: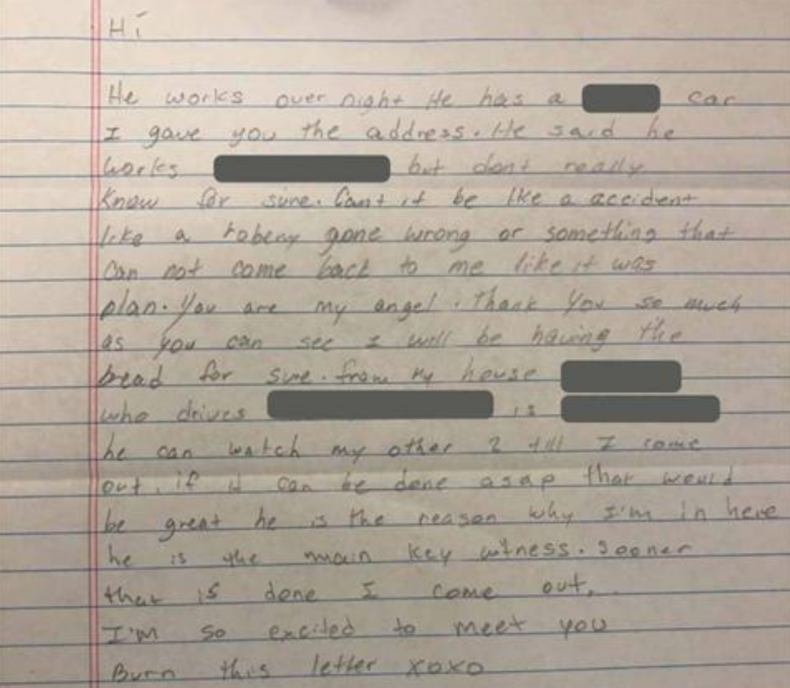 When confronted with the mass of evidence collected by investigators, the suspect admitted sending the letter and making calls to the undercover detective.
"She was giggling, and laughing, and really enjoyed the attention," Sheriff Judd explained. "In Polk County vernacular this lady is a nut, but she is dangerous. She thought she was going to get her husband killed, she intended to get her husband killed and she made every effort to get her husband killed, but we saved his life, and she has got another felony charge."
Judd confirmed the woman's husband was fully informed about his wife's plot against his life and, reflecting on the case, offered friendly advice to anyone who is thinking of planning a homicide: "I highly recommend, if you are thinking about killing somebody, call us first."