The last will and testament of Pamela Mobbs—a 90-year-old Florida resident and lifelong dog-lover who passed away in October 2020—left over $32,000 to her local Sheriff's Department to purchase protective armor for its K-9 unit of police dogs.
Mobbs left $32,856.32 to the Volusia Sheriff's Department in her will. Pamela Mobbs grew up on her grandfather's estate, which was protected by a "fierce" guard dog whom she loved very much, the woman's daughter, Jane Mobbs, told WESH.
Jane Mobbs once took her mother to see a K-9 police dog demonstration on a boardwalk near Daytona Beach. Her mother reportedly "completely fell in love."
"She thoroughly enjoyed the K-9s and watching the officers handle them," Mobbs said.
"My mother wholeheartedly believed all the K-9s should be fitted with bulletproof vests as they often go into uncertain areas first to help apprehend suspects," Jane Mobbs told the aforementioned news station. "She would be so happy to know that she is making a difference in a dog's well-being."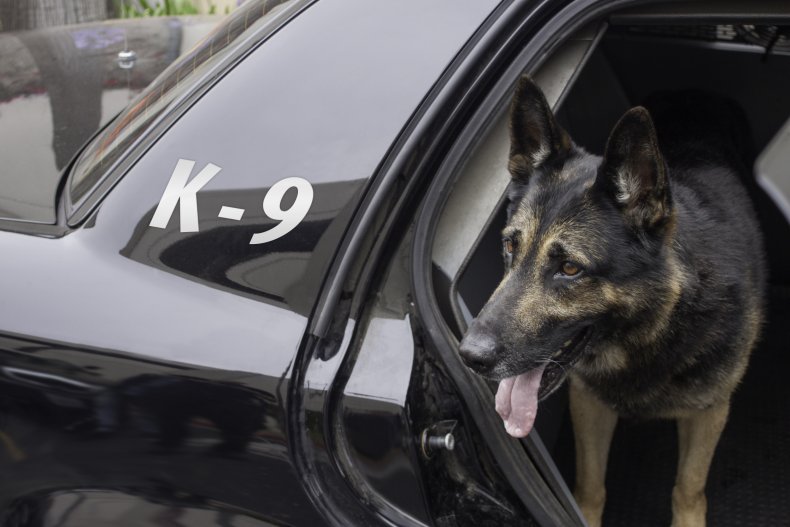 The Volusia Sheriff's Department currently has 18 dogs in its K-9 unit. The dogs help carry out various assistive duties like detecting drugs and explosives as well as aiding in arrests and search-and-rescue missions.
The job is demanding, extremely physical and dangerous, according to Volusia Sheriff Mike Chitwood. Two of the department's dogs were shot and wounded in 2020.
Often police dogs will be fitted with protective vests that can fend off bullets and stabbings. In addition to the armor, Pamela Mobbs' gift will help other future police dogs.
"This is an incredible gift to our agency and it represents this woman's amazing love for dogs," Chitwood said. "Her legacy will continue to positively impact the Sheriff's office and our citizens for years to come."
Legal authorities often use German shepherds as K-9s because of their high level of intelligence, ability to follow commands and ability to work long hours without tiring. The breed is also quick, athletic, has a protective nature and exhibits calmness under pressure, according to The German Shepherder, an online dog website.
In addition to the costs of the dog itself, it can cost anywhere from $12,000 to $15,000 to train a dog for the duties of a law enforcement agency.
Often the dogs are trained elsewhere, then delivered to the agency. There, the dogs will be matched up to an officer who has a temperament and experience best suited to working with them. The officers will often take the dogs home to help care and bond with their canine partners.