Florida Woman Illegally Drives Truck to Pick up Boyfriend From Jail, Arrested After Police See Meth Spilled All Over Her Seat
A Florida woman, 22, who was arrested this week for allegedly driving a meth-covered truck told police she was going to pick up her boyfriend from jail.
Lois Jean Gleeson, of New Port Richey, was detained by deputies from the Pasco Sheriff's Office shortly before midnight on Wednesday during a traffic stop. During questioning, police spotted a "ripped plastic baggie with a crystal substance all over the driver's seat and floor board."
The deputies quickly identified Gleeson as a "prolific offender" who was "known to drive with her license suspended or revoked, an arrest report said.
After being asked to step out of the vehicle—a Ford pickup truck spray painted black—police said the woman admitted to driving without a valid license and claimed that it would cost $20,000 to get it back. A search revealed it had been revoked last August.
The situation became more serious when officers looked inside the truck, according to the arrest report, which said the crystal substance was seized and tested positive for methamphetamine. When weighed, the drugs weighed seven grams.
"The defendant claimed that the vehicle is not hers, and she took the vehicle when it was already dark just to come and pick up her boyfriend from jail. The defendant claimed she was not aware of the substance being spread out all over the front seat," the sheriff's office report noted.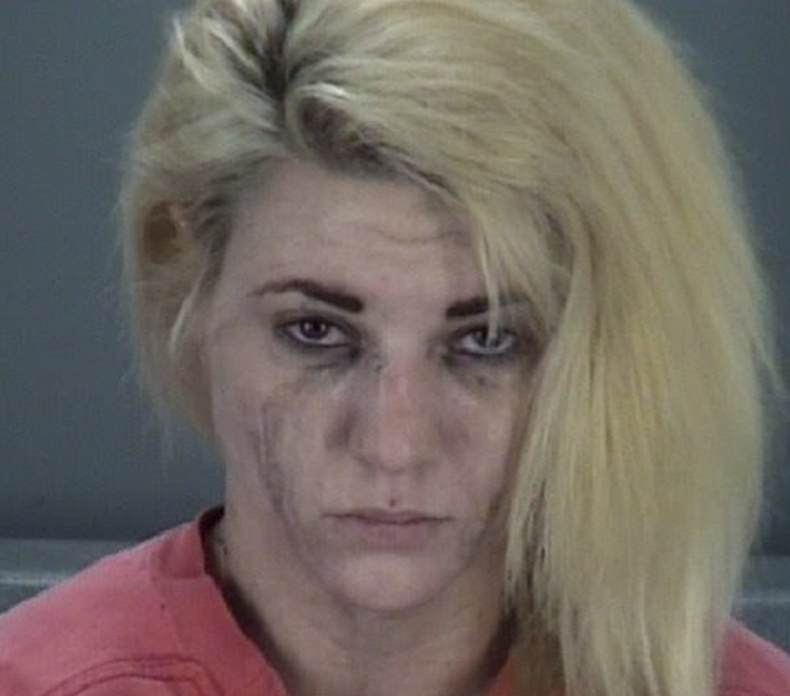 Gleeson, who is listed as unemployed, was transported to the Pasco Jail without further incident, charged with possession of methamphetamine and driving with license revoked.
The arrest was confirmed using inmate records available online, which said she was booked at roughly 1:30 a.m. yesterday and remains in-custody on a $5,150 bond. A charge sheet showed Gleeson has been detained more than a dozen times since 2015, when she was aged 18.
Prior charges include a mixture of felonies and misdemeanors, including resisting arrest, drug possession, violation of a domestic violence injunction, violating probation and battery.
The suspect's boyfriend was not named in the police arrest report, which was circulated to media outlets, including Newsweek, yesterday afternoon.
Possession of methamphetamine is a third degree felony that is punishable by up to five years in prison, five years of probation, and a $5,000 fine, according to law firm Richard Hornsby.
Last weekend, a Florida man was arrested by the Pasco Sheriff's Office and charged with drug possession and aggravated battery with a deadly weapon after allegedly attacking a woman. Fidel Manual Valle, 34, accused the victim of stealing $40 before making her strip naked and beating her with a flashlight. Police found a syringe on a seat that tested positive for methamphetamine.