Florida Woman Pulls Baby Alligator From Her Pants During Routine Traffic Stop, Cops Also Find 41 Turtles In Car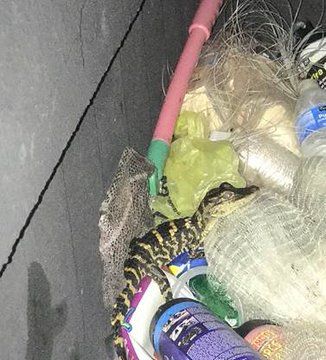 A routine traffic stop revealed quite a surprise for responding officers on Monday.
The encounter began when officers from the Charlotte County Sheriff's Office pulled over a blue pickup truck after it ran a stop sign in Punta Gorda, Florida around 3:30 a.m.
The truck was being driven by 22-year-old Michael Clemons, and contained a passenger, 25-year-old Ariel Machan-Le Quire. The pair told the officers they had been collecting frogs and snakes from underneath an overpass while the police gathered Clemons driver's license, car insurance and other registration, the Miami Herald reports.
Afterward, the deputies gave them a warning citation but requested to look at their backpacks and inside the truck to ensure the pair were not transporting any wildlife they were not allowed to have.
Clemons and Machan-Le Quire agreed to the search, the Herald said, leading the police to discover 41 striped turtles inside the vehicle. The turtles were reportedly discovered in Machan-Le Quire's backpack.
A deputy then asked Machan-Le Quire if she had "anything else," KPLC-TV reported.
Machan-Le Quire "proceeded to pull an alligator out of her yoga pants (about one foot in length) and placed it into the bed of the truck," the incident report read, KPLC said.
The sheriff's office shared photos of the alligator and the turtles to social media on Monday, saying that the Florida Fish & Wildlife Conservation Commission responded to the case and has taken over the investigation.
"Not to be outdone by #Floridaman, a #FloridaWoman pulled this alligator out of her pants this morning during traffic stop after being asked the standard "Do you have anything else?" She also had 41 3-stripe turtles in the car. @MyFWC responded to take over the investigation," the office said on Twitter.
According to WBBH-TV, the FWC identified the alligator and turtles as species native to Florida. However, the reptiles were regulated animals and citations were written for both Clemons and Machan-Le Quire. The animals were take into FWC custody and later released, FWC said.