Florida Woman Sparks Probe After Alleging She Was Removed from Flight Over Maskless 2-Year-Old
Southwest Airlines passenger Tiffani Jett was removed from a flight from Nashville, Tennessee on Sunday because her 2-year-old daughter would not wear a face mask.
Commercial airlines have put coronavirus mitigation protocols in place, with many calling for the wearing of face masks while on board. Passengers who refuse to wear face masks have been removed from some flights. In an interview with WKMG, Jett said she was treated by Southwest Airlines personnel without compassion.
Jett said she attempted to put the mask on her daughter three times but "she kept hollering that her ears hurt."
"There was no compassion," Jett said. "There was no empathy. There was no understanding."
In a statement sent to Newsweek on Wednesday, Southwest Airlines said that while it could not discuss specifics about Jett's experience, its Customer Relations Team was "looking into this situation to learn more."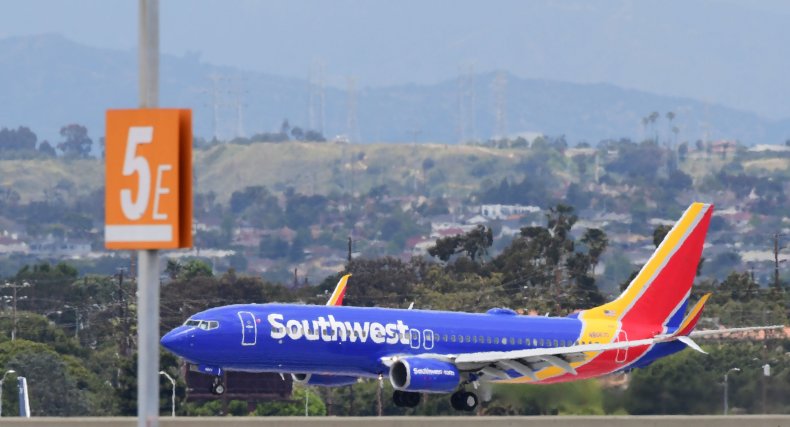 Southwest said its face mask policy is communicated to all passengers "at multiple touchpoints through the travel journey" via booking, emails, and during a "required acknowledgment" on a health declaration form during the flight check-in process.
"All Southwest Customers and Employees over the age of two are required to wear a covering over their mouth and nose throughout the travel journey," read the policy on the Southwest Airlines website. "If a Customer does not have a face covering, the Southwest Team will have face masks available at the airport and onboard our aircraft to ensure compliance with the policy."
Southwest passenger Jodi Degyansky said she and her son were ejected from a flight from Fort Myers, Florida to Chicago on Saturday. After her two-year-old son was spotted by a flight attendant eating as the airplane began to taxi toward the runway, the aircraft returned to the gate. Although Degyansky's son had placed the mask back on his face, the two were still asked to leave the airplane.
According to CNN, Degyansky purchased a $600 ticket with another airline in order to make it back home on schedule.
Airlines have been enforcing their face mask policies to varying degrees. Delta Air Lines CEO Ed Bastian said in August that passengers who violate the face mask policies may be prohibited from flying with Delta.
"You cannot board a Delta plane unless you have a mask on and if board the plane and insist on not wearing your mask, we will insist that you don't fly Delta into the future," said Delta Air Lines CEO Ed Bastian in a July interview. "We already have over 100 people we've put on that list."