Florida Woman Surprised by 7-Foot Alligator Hissing in Her Garage
A Florida woman posted a video on Facebook showing a seven-foot alligator that was found in her garage in Fort Meyers.
"I may have just had a mild heart attack," Torrie Heathcoat, said in the post on Sunday. The reptile made its way into her home during the weekend after her garage door was open for 10 minutes. After they discovered the alligator hissing by the door to the home, Torrie called 911 and the Florida Fish and Wildlife Conservation Commission (FWC) Sunday evening.
Torrie said in her post her husband, Andy, came close to the reptile.
"Andy is lucky he wasn't attacked—he was less than a foot from him! I thought he was kidding, and I opened the door only to be face to face with our guest! I will never forget that moment of fear!" she wrote on Facebook.
"Alligators become more visible and active during spring and summer," FWC spokesperson Tammy Sapp said in an email to Newsweek. "When temperatures rise, their metabolism increases, and they begin seeking food."
Sapp confirmed that FWC officials and the Lee County Sheriff's Office removed the large reptile from the garage and reportedly transferred it to a farm near Fort Meyers. According to the Orlando Sentinel. Heathcoat said that she had seen an alligator earlier that day in a nearby lake, but the discovery of the animal came as a surprise.
"When my husband said, 'There's a gator in the garage', I thought he was kidding," Heathcoat said to WBBH-TV. She told the station that she could hear the alligator "hitting things" with its tail in the garage when she called 911.
As of April 2019, Florida has a population of about 1 million alligators, according to FWC. Alligators actually fear people and rarely bite them, and but feeding alligators can train the animals to associate people with food. Heathcoat confirmed to the Sentinel there was no food in her garage that would have enticed the alligator to enter. Sapp confirmed it is not known why the alligator entered the residence.
"My son had just been in the garage an hour before," Torrie said to WBBH-TV. "This could have ended a lot differently."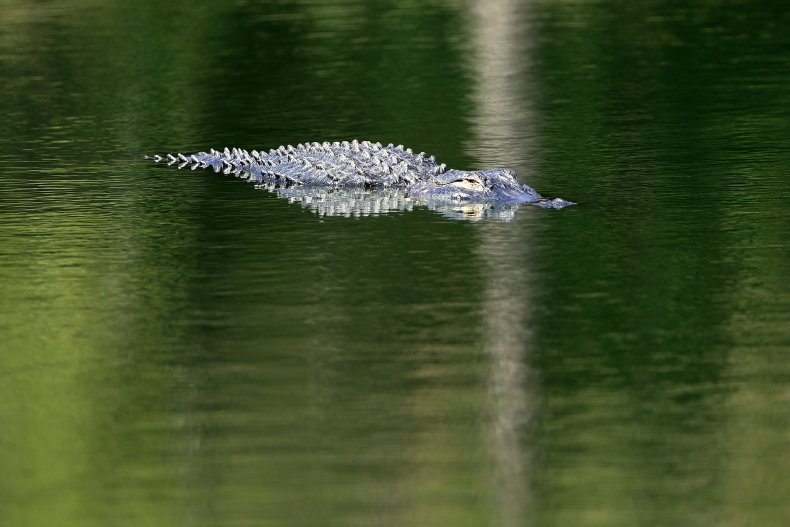 Between 1948 and 2019, 413 unprovoked alligator bite incidents have occurred in Florida, with 25 of these resulting in human fatalities, according to FWC data. Sapp added the FWC administers administers a Statewide Nuisance Alligator Program (SNAP), which is dedicated to addressing alligator-related concerns in developed areas while conserving their natural habitats.
"SNAP uses contracted nuisance alligator trappers throughout the state to remove alligators believed to pose a threat to people, pets or property," Sapp said, describing nuisance alligators, which must pose a threat and be at least four feet long.
When a call comes reporting a nuisance alligator, Sapp said FWC dispatches a nuisance alligator trapper to resolve the situation. Sapp confirmed that these trappers are contracted by the FWC and are not state employees. The receive a $30 stipend for each alligator captured.
"Removing alligators believed to pose a public safety risk is a service the FWC provides at no cost," Sapp said. "When a contracted nuisance alligator trapper removes an alligator, it becomes the property of the trapper. In most cases, the alligator is processed for its hide and meat, which is the primary source of compensation for their services. Occasionally, a nuisance alligator is sold alive to an alligator farm, animal exhibit or zoo."
Heathcoat said in her Facebook post the "pissed-off" gator was relocated to an alligator farm North of Fort Meyers and "[it] will hopefully find the love of his life."
The FWC has received an average of about 16,000 alligator-related complaints per year in the last 10 years. Sapp said that captured nuisance alligators are typically not taken back to the place they were trapped.
"Relocated alligators nearly always try to return to their capture site," Sapp said. "In the process of returning, they can create problems for people or other alligators along the way. If an alligator successfully returns, capturing it again would be necessary and usually more difficult the second time."
No people were injured by the alligator.