Florida Woman Threatened to 'Rob' McDonald's If She Didn't Get Enough Dipping Sauce, Police Say
A Florida woman was arrested on New Year's Day after allegedly becoming enraged about being asked to pay 25 cents for dipping sauce at a McDonald's, while vowing to get the sauce "by whatever means necessary" and threatening to "rob" the restaurant if workers did not give in to her demands.
Maguire McLaughlin, 19, was arrested at a Vero Beach, Florida outlet of the fast food chain in the early morning hours of January 1. She was later charged with disorderly conduct and resisting arrest without violence.
McDonald's employees told police that the woman requested "one flavor of every dipping sauce they have" after completing a large drive-thru order. When she was informed that the restaurant charged extra for dipping sauce, she allegedly "began yelling profanities at several employees" and threatened to "rob" the store if she did not get the sauces without being charged.
"Prior to my arrival, she ordered a large amount of food through the drive thru window," said an officer in a police affidavit. "Upon paying for the food, she requested dipping sauces from the employee. The employee advised McLaughlin that dipping sauce cost 25 cents, at which point a verbal altercation ensued. McLaughlin further stated that she will be getting the sauce by whatever means necessary, however, could not specify what she meant by that."
The restaurant's employees said McLaughlin's threats caused them to fear for their safety, which led to them contacting police to report the incident. When officers arrived, McLaughlin was still parked in her silver Honda at the drive thru window.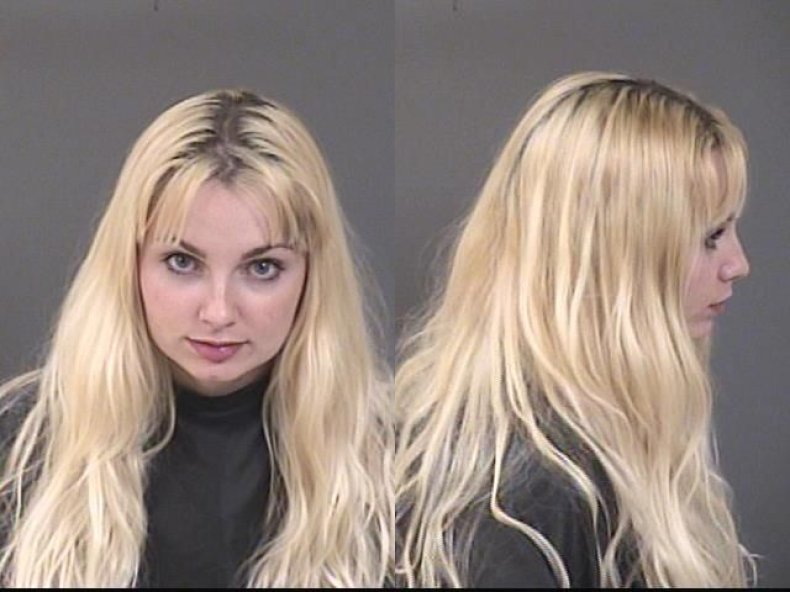 The affidavit describes a largely belligerent response from the woman. The officer quoted claims to have smelled alcohol on McLaughlin's breath while noting her "glossy eyes" and "slurred speech." McLaughlin would "momentarily cooperate" with police, but then suddenly change course and begin shouting profanities.
"McLaughlin was subsequently taken into custody for disorderly conduct and placed into mechanical restraints," the affidavit states. "As I attempted to escort her to my agency patrol vehicle, McLaughlin began locking her legs refusing to walk forward. As I attempted to place her in the rear of my patrol vehicle she proceeded to place her legs in the door jamb and refused to get inside."
Police were then forced to physically "take her to the ground" and place the woman in a restraining device in order to get her into the patrol car. McLaughlin was taken to jail for processing and booked on misdemeanor charges. She was released in the afternoon after posting a $1,000 bond. She is set to make an appearance in court on January 28.
Newsweek contacted the Indian River County Sheriff's Office but received no comment on the case.