Viral Video Shows Florida Woman Hosing 'Loser' Man for Fishing in Waters She Claims to Own: 'You're Going to Jail'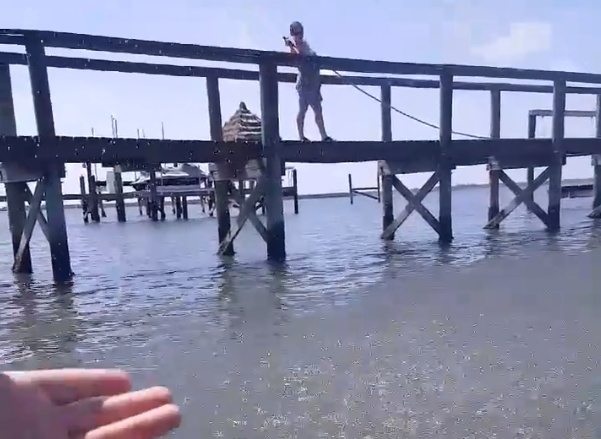 Footage of a Florida woman berating a fisherman for being in water she claimed to own has gone viral—and a protest is being planned in the same area for tomorrow.
The incident took place at Vero Beach last Thursday and footage was later uploaded to social media by fisherman Jose Ortiz, under the account name Tony Toca. The woman in the video was named by local media as Joyce Khatibi. She owns property in the Vero Beach area.
Ortiz said he had fished at the spot for years but was interrupted on a recent trip by Khatibi, who claimed that he had been trespassing in a section of the water that she owned.
"Hey everybody, I can't even fish. She says she owns the water, she is splashing me, bothering me," Ortiz was heard saying in the video, which has been viewed thousands of times.
"You don't own the water," the fisherman continued. As they bickered, Khatibi picked up a hose and sprayed it in his direction. She called him a loser several times and said her name was Pepé Le Pew. "If my son was here he would beat the shit out of you," she threatened.
"That's fine," the man responded. "You'll go to jail, he will go to jail."
An Indian River County Sheriff's Office report obtained by WPEC (CBS12) confirmed that Ortiz was initially asked to leave the area. But after a follow up, officers found Khatibi did not own the water she claimed to. Ortiz said he would be filing an official police complaint.
"We… reviewed the actual parcel that Joyce owned. Her property line does not extend into the water like her neighbors. Her property only includes about 5 feet of shoreline. Jose had never approached the beach area that Joyce owns," the local police incident report stated.
Khatibi told WPEC she did not directly spray water at the fisherman, just in front of him "so he would stay back." She claimed he had "trespassed through several private properties."
The police report noted that Ortiz claimed Khatibi had also made "several racist comments to him."
Speaking to local media outlet Fox 35 Orlando, the fisherman said the woman had told him to "go back to your country" and claimed she also said "you don't belong here."
A Facebook page called "Fish Joyce's Dock" was created after the incident. An event page is teasing that hundreds of fishermen and women will turn up tomorrow at the same location to make a point about the waters being a public space. It is expected to be live-streamed to the social network by attendees. On the page, a video from September 2018 was posted that appeared to show a similar incident.