Florida's Annual Orange Crop Appears to Be Smallest Produced in Over 75 Years
Florida is set to produce the smallest number of oranges in more than 75 years since the 1944-1945 season.
According to a forecast released by the U.S. Department of Agriculture, Florida's $9 billion industry is set to produce only 44.5 million 90-pound boxes of oranges, which is a 1.5 million box reduction from December. This is in contrast to when Florida produced 244 million boxes of oranges during a single year.
This orange shortage marks the second year of production shortages. In 2021, orange production was down 20 percent, according to The Weather Channel.
"The disappointment of another decline in the forecast is hard to overstate," said Shelley Rossetter, assistant director of global marketing at the Florida Department of Citrus, in a statement, according to The Motley Fool, a private financial investing advice firm. "But so too is the determination of Florida's citrus growers who remain focused on delivering great-tasting and high-quality fruit while - simultaneously - seeking new solutions to citrus greening."
One reason orange production continues to decrease is because of citrus greening, an insect-borne bacteria, The Motley Fool reported. The disease has been infecting trees since 2005, but the latest surge is behind the limited orange forecast from both this year and 2021. The disease spreads like lice and stops the flow of nutrients into trees, which keeps them from maturing. Therefore, the oranges are small, sour and unusable.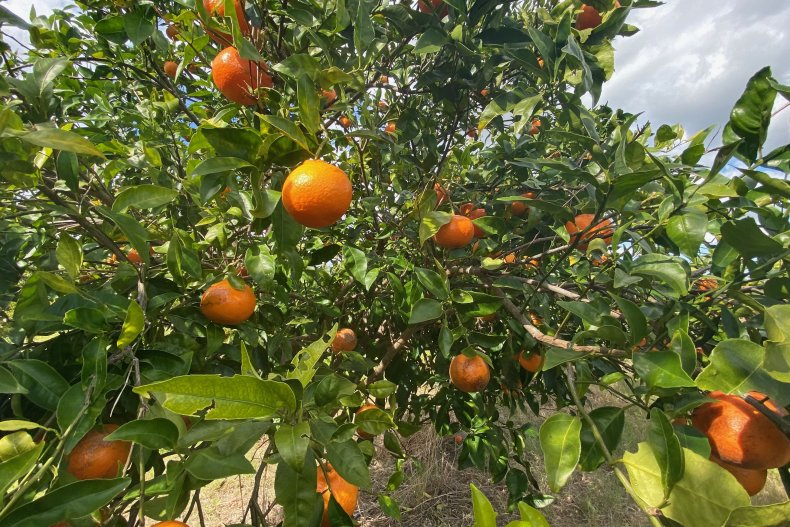 "We're fighting the most devastating disease in the history of Florida, the most devastating disease in citrus," said Mike Sparks, the chief executive at Florida Citrus Mutual to The Ledger in 2020.
Hurricane Irma, which hit Florida in 2017, also affected the orange growing population estimating $1 million in damages to the citrus industry.
The University of Florida's Vice President for Agriculture and Natural Resource Leader, J. Scott Angle, said he plans to visit the Florida State Capitol to promote nutrient management resources for the citrus industry.
"I need your help letting our lawmakers know that it's in Florida's interest to keep citrus growers in business by updating the research on nutrient management so that we can protect both water quality and the economy built around citrus," Angle wrote on the AgNet Media.
Florida Governor Ron DeSantis's 2022 proposed Freedom First Budget includes $29.2 million for the citrus industry, which would do toward marketing, research and the Citrus Health Response Program.
Forecasts show California is set to produce more oranges for the first time in years. However, a recent study from the University of Florida's Institute of Food and Agricultural Science found consumers are more likely to buy orange juice if they believe it comes from Florida, even if it's a false statement.