Florida's Attempt to Feed Starving Manatees Has Yet to Work, Cold Should Help: Officials
After a year of manatee deaths hitting record highs in Florida, officials from the state and federal agencies attempting to help lessen their starvation said they were optimistic their feeding station will be more effective as colder temperatures set in.
According to WTSP, a Tampa-area news station, 2021 had the highest number of reported deaths of Florida manatees with 1,101. That prompted the Florida Fish and Wildlife Conservation Commission and the U.S. Fish and Wildlife Service to launch a joint effort to protect the manatees.
FWC data shows the majority of the manatees that were necropsied last year died as a result of watercrafts accidents, from natural causes or shortly before or after birth. However, a report from the commission also noted that algae blooms killing seagrass in the Indian River Lagoon have caused many manatees to starve.
To try to curb manatee starvation, the two agencies created a feeding station on Florida's east coast. In a conference call with reporters, officials in charge of the joint effort said they have been trying to feed the manatees romaine lettuce, which they enjoy eating in captivity.
However, Ron Mezich, chief of the joint effort's provisioning branch, said, "We have not documented animals foraging on the lettuce." According to WTSP, he said this was expected and team members would try to adjust their methods of giving the animals food.
In the news conference, the experts said a likely reason the feeding experiment is not be going as planned is Florida's unusually mild winter, which has caused the manatees to be more scattered than usual.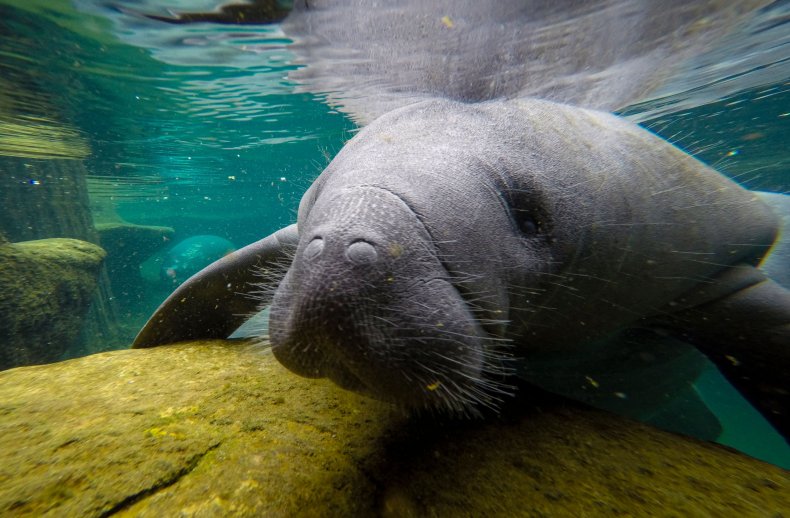 Tom Reinert, the FWC's south regional director, said that while they are moving, "they are not being pressed by cold temperatures yet," which usually motivate them to gather in warmer waters. But he also added that the FWC expects them to make the move as temperatures get colder.
In addition to the feeding efforts, the agencies also turned their attention to a lack of space in rehabilitation facilities for injured manatees. WTSP reported a variety of local partners, such as ZooTampa and Clearwater Marine Aquarium, are working to help with rescue and transport services.
In a statement, the Save the Manatee Club said it believes the two agencies' efforts "will be a critical move in the effort to prevent another winter season of record manatee deaths," adding it has "pledged to provide immediate assistance should the agencies need additional support for this critically-important feeding effort."
Patrick Rose, the group's executive director, warned the public against trying to feed the manatees.
"It is devastating to see malnourished manatees, and we know that the hearts of those who would like to feed them themselves are in the right place," Rose said. "However, it is extremely important for the general public not to take it upon themselves to feed manatees.
"The FWC/FWS program will be carefully controlled and monitored, with an eye towards minimizing any negative impacts on manatees, other wildlife, and their habitat. Outside of this environment, manatees may lose their fear of people and boats when they are given food or water, leaving them vulnerable to harassment, injury, and death."