Florida's Biggest LGBTQ Group Says DeSantis Is Making 'Surveillance State'
Florida's largest LGBTQ advocacy group is accusing the state's Republican governor of rushing a pair of bills through the Legislature that it says would allow the state to censor classroom discussions.
Equality Florida launched a website and ad on Monday presenting a potentially unsettling vision of classrooms if two controversial pieces of legislation reach the desk of Governor Ron DeSantis, who has emerged as a possible contender for the 2024 Republican presidential nomination.
"Governor DeSantis is pushing legislation to curb free speech, propagandize school curriculums, and monitor classroom conversations, private workplaces, and doctor's offices—all in order to outflank Donald Trump to the right and build an onramp to run for President in 2024," Nadine Smith, Equality Florida's executive director, said in a statement announcing the video.
She said the governor and other Republican leaders are using "parental rights" as a pretext for "censorship." The statement described the legislation as "DeSantis' Surveillance State slate of bills."
DeSantis' office shot back, saying the legislation has nothing to do with "surveillance" and is instead trying to protect workers and students from forced indoctrination.
"I do not see how any of these provisions could be construed as a 'surveillance state,'" Christina Pushaw, spokeswoman for DeSantis, told Newsweek in an email. "I would suggest that anyone who truly believes that, has not actually read the bills."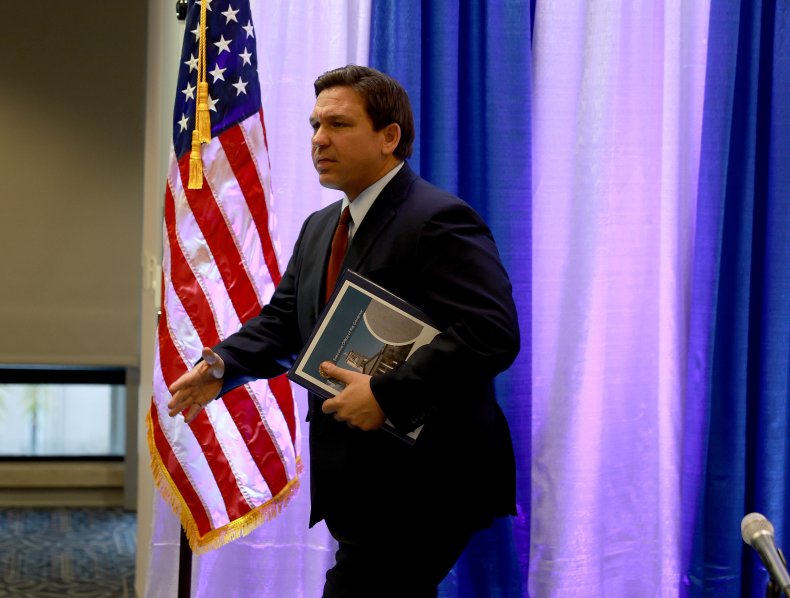 The 30-second video titled "My Heroes," shows a student being asked to give a presentation about her hero. "I have two heroes: my two moms," the girls says. Her remarks cause a red light and buzzer to immediately go off. The girl's teacher tells the girl she should be proud and to continue. A voice cuts in through the school's intercom directing the teacher to report to the front office.
The bills at issue include House Bill 1557/Senate Bill 1834 and House Bill 7/Senate Bill 148.
Presented as parents' rights legislation, the first bill would require schools to notify parents if their child was given different services regarding their "mental, emotional, or physical health or well-being." Schools could also only discuss sexual orientation or gender-identity issues with "age-appropriate" students.
Calling it the "Don't Say Gay Bill," Equality Florida said the legislation would "further stigmatize the LGBTQ community," while having a chilling effect on creating inclusive school environments. Additionally, the group said the bill would isolate LGBTQ students, who it said are already at "staggeringly higher risk" of depression, anxiety and suicidal ideation than their peers.
While DeSantis supports "parental rights on principle," he has not had a chance to review the legislation and doesn't have a stance on it, according to Pushaw.
She also pointed to previous remarks by DeSantis raising concerns about reports of school staff keeping parents in the dark around their child's gender conversion or encouraging inappropriate conversations about sexual orientation—points that have been raised by the bill's proponents.
Equality Florida spokesman Brandon Wolf told Newsweek in an email that DeSantis revealed his intentions regarding the legislation in remarks he made in December.
The other bill would ban employers from requiring workers to undergo training compelling them "to believe specified concepts constitutes discrimination based on race, color, sex, or national origin." The legislation, referred to as "Stop WOKE Act," carries a similar ban for students and school employees.
Equality Florida said the bill would give employees and families a basis to sue their employers or schools respectively over trainings covering racial equity, implicit bias or even sexual harassment. Schools and companies will forgo having these conversations instead of risking a lawsuit, according to Equality Florida. The group already pointed to an incident last month where a Florida school district canceled a professor's civil rights seminar for teachers out of concern of potential blowback.
"Nobody should be forced to take discriminatory, racialist indoctrination at school or at work," Pushaw said in her email.
The bill doesn't ban diversity, equity and inclusion training in schools or companies, she said. Instead, she said, the bill defines as discrimination trainings that label individuals "inherently racist" because of their race or other similar factors. The bill also labels training that teaches an individual is "either privileged or oppressed" because of their race or that advocates an individual be treated adversely because of their race.
Schools have increasingly become culture war battle grounds, where conservatives have accused progressives of using discussions about race to indoctrinate students. As the 2022 midterm elections approach, Republicans have increasingly made schools an issue after seeing success in Virginia and New Jersey's off-year elections.
Previously, DeSantis has signed legislation banning The New York Times' 1619 Project in Florida schools and critical race theory, an academic idea concerning racism in American society that's been used broadly by critics of racial equity training.