Florida's Brevard County Calls For 24-Hour Delay On Mandatory Evacuations
Brevard County officials have called for a 24-hour delay of mandatory evacuations in the Eastern Florida region ahead of Hurricane Dorian's potential landfall. The announcement came Saturday afternoon, amid multiple reports that the storm had changed course once again.
On Friday, the Brevard County Sherriff's office had called for evacuations to begin Sunday morning at 8 a.m.—but experts said Dorian's track had shifted slightly east, and was forecast to sail northward near the Florida's Eastern coast on Tuesday and Wednesday.
With this unexpected change in the now category 4 storm, officials are asking residents to begin evacuating Monday at 8 a.m.
"Hurricane Dorian's been playing cat and mouse with us for the past five days. And it continues to stall out in the Atlantic," Brevard County Spokesperson Don Walker said on Saturday, making an announcement from Emergency Operations Center in Rockledge.
According to the county's emergency officials, the evacuation order is in place for: residents of the barrier islands, those who live in mobile homes or manufactured housing, mainland residents who live in low-lying, flood-prone areas and those with special medical needs.
"This is not your government saying we're out of harm's way," said Public Safety Director Matt Wallace in a written statement. "This is still a killer storm. We want our residents to remain vigilant, to protect your family and loved ones and to make smart decisions."
On Friday, the Breverd County Emergency Management Office also announced that all school activities scheduled for Saturday would be canceled while storm preparations took place, and schools would be closed on Tuesday, following Dorian's probable landfall and the Labor Day Holiday.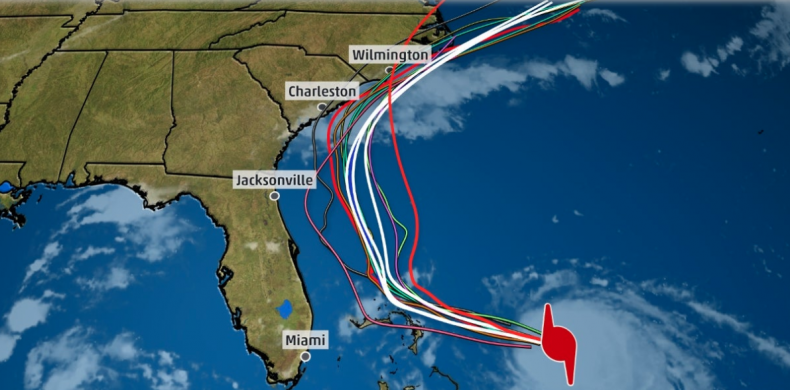 The Weather Channel reports that despite its uncertain path, Dorian is expected to grow larger in the coming days, though it will lose some of its speed. So far, the hurricane has developed maximum sustained windspeeds of 140 miles per hour.
"Dorian is expected to move north, then northeast near the coasts of Florida, Georgia, South Carolina and North Carolina." Weather Channel writes of the storm's Tuesday-Thursday trajectory. "The exact track is very uncertain, ranging from a track far enough offshore to keep hurricane force winds away from land, to a landfall anywhere in this zone."
As Sarah Gorman, a representative from The Weather Company points out, nothing is certain in regards to Hurricane Dorian. "The track can still shift, either closer to Florida or farther away and small fluctuations can be significant," Gorman told Newsweek in an email Saturday afternoon.