With two weeks until Election Day, Florida's mail-in ballots have nearly surpassed the total number of absentee ballots cast in the 2016 election.
As voters gear up for the state's first day of early in-person voting, more than 2.4 million Floridians have already voted by mail, which is already more than 91 percent of all the mail-in ballots cast in 2016.
According to the Florida Division of Elections, 2,758,617 Floridians voted by mail in the last election.
Florida follows the trend rippling across the nation. Faced with the coronavirus pandemic, voters are casting absentee ballots in record numbers ahead of Election Day. Data from the United States Election Project shows that more than 28 million Americans have already voted in this year's election.
Many voters have also been turning up to vote early in-person ahead of November 3. Georgia, Texas, Ohio and Illinois have already set early voting records with people waiting in massive lines, up to nine hours in some places, to cast their ballot.
Early voting in Florida began Monday. Videos showed voters waiting for poll sites to open before offices even opened.
In the last presidential election, early in-person voting was the most popular method of voting for Floridians. More than 3.8 million people voted ahead of Election Day at an early voting center, according to the Florida Division of Elections. Another 2.9 million voters hit the polls on Election Day.
Winning Florida will be crucial for both President Donald Trump and Democratic nominee Joe Biden to secure the presidency.
In 2016, Trump won the swing state by 1.2 percentage points. Back in 2012, Barack Obama took the state by 0.9 points.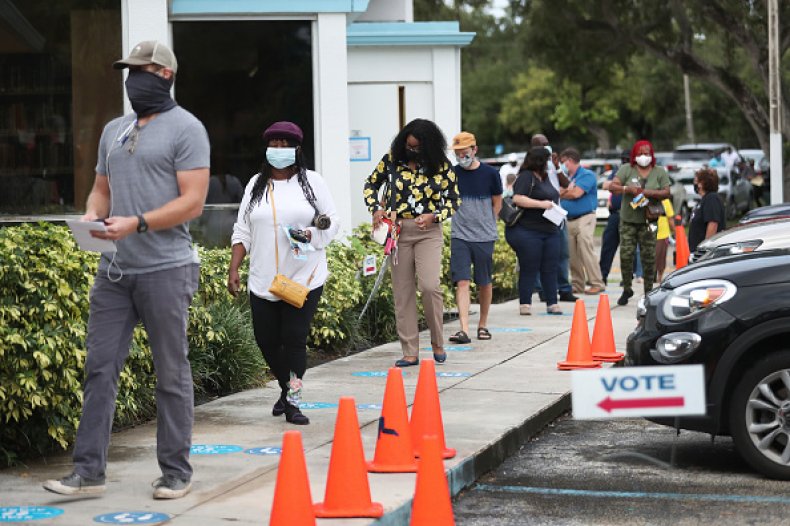 Although Trump railed against mail-in voting earlier this year, claiming widespread voter fraud, the president supported absentee ballots in the state of Florida, where he also casts his vote by mail.
In August, he encouraged all Floridians to vote by mail only a week after denouncing the voting practice.
"Whether you call it Vote by Mail or Absentee Voting, in Florida the election system is Safe and Secure, Tried and True. Florida's Voting system has been cleaned up (we defeated Democrats attempts at change), so in Florida I encourage all to request a Ballot & Vote by Mail!," he tweeted.
The president hosted two campaign rallies in the state last week—an indicator on how important Florida and its 29 electoral college votes will be in signaling a path to the White House.
Biden also visited the Sunshine State last week. He hosted a drive-in rally in Broward County last Tuesday in hopes of drumming up support from Florida's older voters.
"The only senior that Donald Trump cares about" is the "senior Donald Trump," Biden said at the event.