Florida's New COVID Cases 30 Percent Higher Than at Previous Peak in January
According to numbers reported on Tuesday, COVID-19 is now worse in Florida than it has been at any point during the pandemic.
Data from The New York Times' COVID-19 tracking database showed new known cases in the state reached 23,314 on the weekend, 30 percent higher than the state's previous pandemic peaks in January.
The Times' database also showed there has been an average of 227 COVID deaths reported each day in Florida as of Tuesday. Which is a record for the state and the most daily COVID deaths in the nation. Across the entire U.S., new deaths have reached a daily average of more than 1,000.
According to the Times, federal data showed hospitalizations in Florida have also nearly tripled in the past month alone, and more than 17,200 people are hospitalized in the state with COVID.
The new numbers are largely attributed to the Delta variant surge in the state. The Centers for Disease Control and Prevention (CDC) has said it believes Delta is responsible for an overwhelming majority of new COVID cases this summer.
A recent report indicated Florida is the 30th most vaccinated state in the country, with 52 percent of residents being fully vaccinated. However, statics show vaccinations are far lower in some of the counties where the virus has been most prevalent. Young people in Florida, who perhaps thought they were healthy enough to skip the vaccine, have also contributed to the drastic increase in new infections.
Many in the state have blamed Governor Ron DeSantis for hindering public health measures to slow the virus spread. The Republican governor has banned vaccine and mask mandates in the state.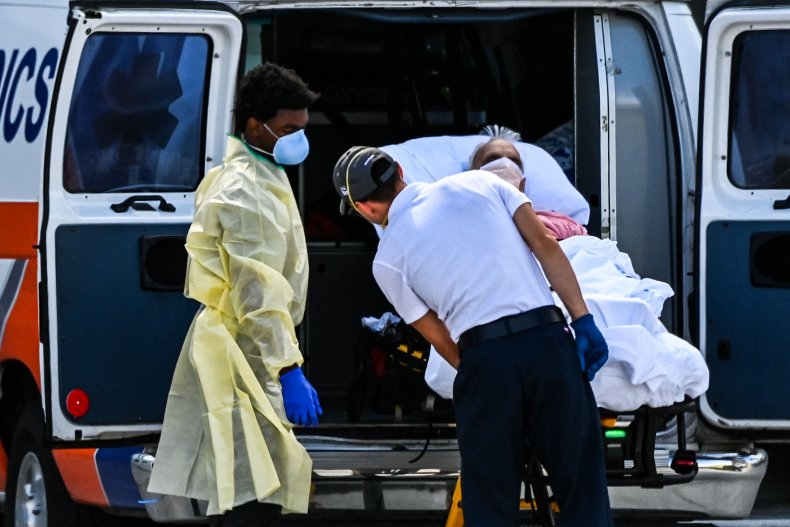 A Quinnipiac University poll released Tuesday found 46 percent of respondents in Florida said DeSantis hurt efforts to slow the spread of COVID-19, compared to 41 percent who said the governor helped slow the spread of COVID in Florida.
By a 61 percent to 33 percent margin, a majority of Floridians in the survey said the recent rise in COVID-19 cases in the state was preventable, and 59 percent said COVID in Florida is out of control. Seventy-three percent said they feel the spread of COVID-19 in the state is a serious problem.
In opposition to DeSantis' mask mandate ban, 68 percent in the same poll said they think local officials should be able to require masks in indoor public spaces if they believe it is necessary. Sixty percent said they support requiring students, teachers, and staff to wear masks in schools.