Florida's New COVID Reporting Method Shows 'Artificial Decline' in Latest Data
Florida's Department of Health (DOH) has changed its reporting methods on COVID-19 data yet again, and the latest modifications are showing what experts have called an "artificial decline" in the number of deaths across the state.
The Miami Heard found that until three weeks ago, information gathered by DOH counted deaths by the date they were recorded. But on August 10, the state switched to tallying new deaths by the date an individual died, which can cause a lag in reporting because those deaths need to be evaluated and certificates need to be processed first.
While those numbers are updated when available, the new reporting method has effectively created a spike where a downslope was previously recorded while also moving the downward trend forward in time.
According to the U.S. Centers for Disease Control and Prevention (CDC), which publishes data recorded by the DOH, each jurisdiction can choose how to report COVID deaths. Florida is among 12 states that record new deaths by date of death.
Shivani Patel, a social epidemiologist and assistant professor at Emory University, told the Herald that the changes now show an "artificial decline" in recent deaths.
Without any explanation for the sudden shift, Patel worried that "it would look like we are doing better than we are," especially given Florida's alarming and ballooning COVID hospitalizations and deaths in recent weeks.
In a statement issued late Tuesday, the health department said that "narratives surrounding 'artificial decline' and 'jump' contradict one another, are patently false, and have zero credibility."
In the press release, the DOH said it has reported deaths by date of death to the CDC since March, adding that "updating already provisional data does not create an 'artificial decline,' nor does it distort the data."
"As many epidemiologists and informed health professionals would know, there is an inherent lag when deaths are reported to the Department from external sources. That is why relying on date of death, rather than date reported, is the most accurate representation of COVID-19 trends and surveillance," the DOH said.
Earlier, the health department told the Herald that it had worked with the CDC to solve discrepancies in data.
"It shouldn't be left to the public, to scientists, national policymakers or the media to guess as to what these numbers are," Patel told the Herald. "We know from the beginning that dates matter and that they tell us different things."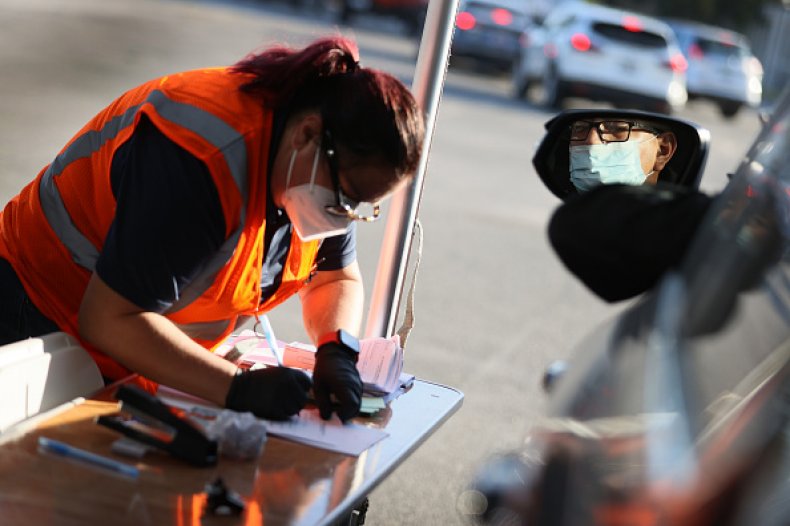 This is not the first time the DOH has made unannounced changes to the way it reports state coronavirus metrics.
In June, the department discontinued its COVID-19 dashboard, switching instead to a weekly report and no longer providing daily data to the public.
While the data from the DOH indicates that COVID deaths are on somewhat of a decline in Florida, hospital morgues tell a different story.
Health systems, whose morgues have faced overflows due to backups at local funeral homes, have been forced to order portable morgues to help store additional bodies.
Last week, Advent Health's central Florida division confirmed freezers were being used at 10 of its campuses.
"With the spike of seriously ill patients in our hospitals, it's prudent that we prepare for an increase in deaths and are putting resources in place to provide additional capacity if needed," the health system previously told Newsweek.
Update (9/1/21, 9:11 a.m. ET): This story was updated with comments from the Florida Department of Health.