Florida Leads Nation in Employment Rebound Despite COVID Surge
A new study by WalletHub has revealed that Florida is the No. 1 state that has seen lower unemployment claims since the start of the COVID-19 pandemic in 2020.
The WalletHub study, which was released on Thursday, revealed that the Sunshine State has recovered the quickest from filed unemployment claims than any other state in the U.S. There has been a 91.50 percent change in the amount of filed cases in 2021 compared to 2020 where the unemployment rate stood at 7.7 percent.
But, while Florida sits at the top for lowest unemployment claims, Florida is currently No. 2 in the amount of COVID-19 cases in the U.S. As of Thursday, there have been 37,299 reported cases of COVID-19 and 1,554 deaths during the last week in Florida, according to John Hopkins University of Medicine.
Other states which round out the lowest number of unemployment claims since the start of the pandemic include South Carolina, New Hampshire, Kansas, and South Dakota.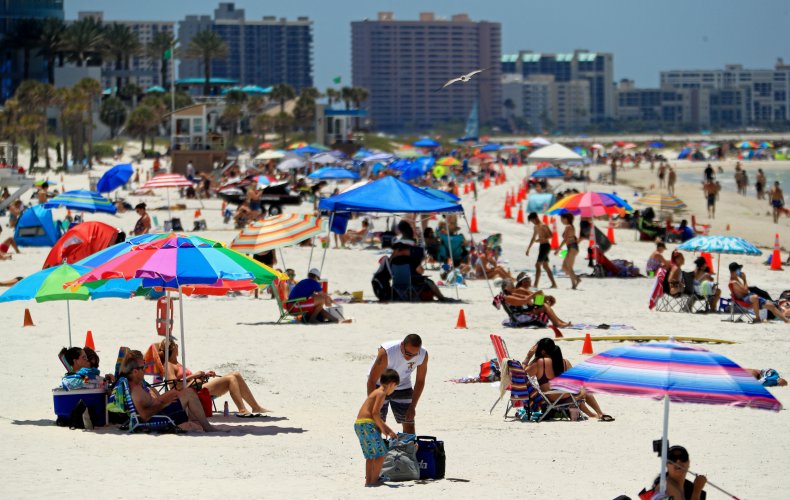 According to WalletHub, states with the smallest increase in unemployment cases within the last week include South Carolina, Arkansas, West Virginia, South Dakota, and Wyoming. States with the largest increase in unemployment cases within the last week include California, Michigan, Nebraska, Virginia, and the District of Columbia.
Currently, there are 8.4 million Americans unemployed because of the pandemic in total.
WalletHub analyst Jill Gonzalez said people shouldn't worry too much about the current rise in unemployment claims due to the numbers being on a "sharp downward trend."
"The peak was 6.1 million claims in a single week in March 2020, and we've brought that number down to 352,000 as of the week of September 25, 2021," Gonzalez said. "The most recent number of weekly unemployment claims is comparable to the amount we had in early October 2013. However, it is still around 150,000 above the record low we saw at the beginning of 2020."
The well-known analyst also described how the expiration of extra unemployment benefits could aid in reducing unemployment numbers.
"Some people were making more money while unemployed than they did when they were employed, but that will no longer be the case," said Gonzalez. "Therefore, those people will have more of an incentive to seek out employment to make up for the drop in income.
"Currently, the U.S. has more job openings than unemployed people, so people brought back to the workforce by the expiration of the extra benefits will have many opportunities to get hired," Gonzalez added.
As for California, which currently has the most COVID-19 cases in the U.S., Gonzalez mentioned that California unemployment claims have experienced the "fifth slowest recovery in the U.S."
"For the week of September 27, California had 68,208 new unemployment claims, a 94 percent decrease from the peak during the coronavirus pandemic," Gonzalez concluded.